Our Christmas Display is a family oriented celebration of the Christmas Season. It is held on a private one acre corner lot, in a wonderful rural setting. It features a fully choreographed Music and Light Animation Show. It is an artful blend of Holiday Traditions of the Season, and Technology, creating a truly magical spectacle of light and sound. It is an outdoor experience, that allows you to walk around the perimeter of the property to enjoy the many custom crafted vignettes.
WE ARE OPEN FOR THE SEASON!
HOURS:
Sun - Thurs 5pm to 9pm
Friday - Saturday 5pm to 10pm


WOODINVILLE WONDERLAND IS ANNOUNCING THAT 2018 WILL BE OUR SWAN SONG (LAST) SEASON.

Now that we are a week into our 2018 Display Season, it is with heavy heart that I announce that 2018 will be Woodinville Wonderlands last Season. This decision was not taken lightly, and we will miss the relationships we have generated over the past 15 years. We wanted to let you know so that you can come visit with us, and I hope to be able to talk to you all and thank you for all the love and support over the years. I will provide more details on my website
Blog

outlining what is behind this decision. If we do not get a chance to talk to you, we SOOOO appreciate what you have done for us, and our Charities. We will dearly miss being a part of the Northwest community. Thank you for all your

LOVE

and support.
Here is some info to make your visit as enjoyable as possible:


The Display is free for all to visit. We accept voluntary cash donations to our Charities listed below. Please do not leave foodstuffs

We are in a rural area. Signs direct you and it is DARK till you get to the Display. Use caution and monitor your speed

Tune your radio to
101.9 FM
in the area to listen in your car. The Show is piped into the yard while walking the Display

No Parking signs and cones designate No Parking. Park anywhere else. The shoulders are wide, so pull your car as far off the pavement as possible

A Santa Can (porta potty) is onsite for your convenience. Look for the Santa Moon

Please respect my neighbors in the area. They support me and I need to maintain good relations with them

The Display is MOSTLY a walking Display. Please dress accordingly. If you must remain in your car, there are a few select parking spots to watch the West Yard


NO ONE IS ALLOWED IN THE YARD AT ANY TIME
. If you see someone please mention this to them. If its me, I will thank you for your help.

I have ONE handicapped parking spot. I must manage that. If you need it seek me out. If you have a placard, unless someone in the car is truly sick or handicapped, find a regular parking spot

Trash cans are located around the Display, please use them


Please DO NOT allow your children to kick or throw the rocks on the road edge
. You will be asked to leave if rocks are thrown at Display elements

We love Fur Babies to visit, and have our own fur baby host, Yogi. All animals need to be social and picked up after.
Woodinville Wonderland is located at:
23620 NE 183rd St - Woodinville, WA 98077
Directions/Map Below
Check out our
Blog
or
Facebook
page for updates.
See our
Press
link to see other articles, and interviews about our display. A new Walkabout video was added to our Video page on 2/24/15. You can directly access it by clicking HERE
There is a GREAT listing of Pacific NW Display's both private and commercial that can be found at the following Facebook Page:
Pacific NW Christmas Lights

Our charitable efforts for the Season are provided to:
Special Olympics of Washington and the Northshore Wranglers.
Woodinville Wonderland is a privately funded display. 100% of the donations received during the season, are given to these very worthy causes.

The Northshore Wranglers are the areas local SOWA team. We made the decision in 2010 to split our donation total, with 50% going to the Wrangler team. Woodinville Wonderland is very proud to be working with both charities!

2018 is our 12th year collecting donations for: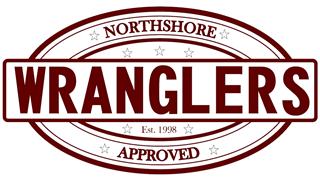 2018's current donation total is $834!
Help us break last Season's total of $7486, we can do it!
With this count, now to date we have collected over $56K for these worthy causes!
Thank You! Thank You! Thank You! for your patronage and generosity!


We are located Approximately 3 miles west of Duvall, just off Woodinville/Duvall Road, and 8 miles east of Downtown Woodinville
Click on the map below for more a more detailed view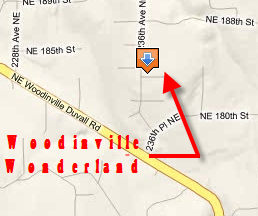 Send us an email with your thoughts and comments

Christmas Enthusiast Prayer:

As I untangle strings of Christmas Light, Lord help me to remember that I do this first to honor You. Never let me get so prideful of my display that I fail to see the wonders in the eyes of a child, or the joy on the faces of those who are still children at heart. Never let me forget that my total effort is to make Christmas Memories, bring cheer, and, to slow down the pace of a hectic Season, if only for a moment. And Lord, someday when I meet you face to face, may I hear you say: "When you made My People smile, you made Me smile"
Author: Mira Moore





Copyright 2006 - 2018 Woodinville Wonderland