12-6-13 - Well we have a few days behind us. The early season visitors almost have an advantage that they can almost get the display to themselves. I do have to say though that with 200 or so people on the street, there is a certain festive feel. Mom Nature has made it BONE cold. The new train needs some assistance to allow it to run, and right now the track is frozen. If it is going to be running this weekend at all, I will need to manually thaw out and dry the track off! I have laid low this week after Monday and fighting the RGB Tree. I may give it a bit more attention today, but it will not get anymore significant time from me, and it will be what it will be. We get Brownie Troops here tonight, Friday and Sunday for Hot Chocolate and cookie sales to provide for our charity. I HOPE the power stays on, as last year, if you remember, we had the power outage with them here. I have a few things to fix today to ensure a decent showing this weekend. Come out and see us. We are looking forward to seeing everyone.


12-1-13 - This was one of the best and worst set up seasons I have had to date. I was ahead of schedule and behind. Mom Nature was a peach with weather, except for tonight Light Up! it is going to rain on our parade. I had been ahead of schedule with the yard and set up, only to lose sooooo much time mucking with one of the new additions. The RGB Tree. Turns out the Chinese vendor I got them from created and manufactured a bad design overall. So the pixels on the tree are in a constant state of failure. I spent way over 40 hours attempting to get the tree functional, and who knows what it will eventually do. I have some punch list stuff to do today after our Dress Rehearsal last night, and buttoning up the RGB Tree is one of those items. I won't know what it will do until tonight. Sorry I have not posted more updates, I have been head down trying to keep moving. I will post some pictures soon, here and on Facebook. The season is here, we will be Light Up! tonight, come by and see us and say hi. We would love to hear from you all. Merry Christmas!


11-15-13 - Well the BIG Push! is here. I am on vacation from now to Dec 2nd to get it all done and lit. I did a few things done tonight, and wrote my To-Do List. I have a good buddy of mine giving up the weekend at his display in Aberdeen to give me a hand for the next 2 days. Ken Collins. I will owe him BIG time after the next 2 days. If things go well. The next few days will tell me how I will do against my schedule. So I may be quiet for a few days on updates. This afternoon, I talked to my High School volunteers for orientation. Always a good time. They are looking forward to helping on my busy nights. So early to bed tonight and up early tomorrow to hit it hard. Mom Nature, please be kind..............


11-3-13 - I started a Blog update yesterday morning after I posted to Facebook, and just as I was about to SAVE all the edits, BOOM, BOOM out go the lights. We had a wild wind storm all day Saturday and power was knocked out for over 16 hours! I had my first wind related issue in many years. Santa Harley was not anchored like he should have been. He crashed and burned down the ridge he rides. He was precariously hanging over the gable gutter, and had to stay like that till this morning when I was able to rescue him. He came through it all amazingly and after he was put back in his cradle and re-secured he fired right up with no light damage, thankfully. So today was totally dedicated to cleaning up the place completely after the storm. What a mess. That was the bad news. There was leaves, cedar droppings, needles, branches etc.... all over the place. It took me 10 hours to clean up what I could an there is still about an hour tomorrow to finish the east yard. However the silver lining is that, most everything is down for the season, the lawn has been mowed and I can start putting stuff in the yard, somewhat earlier than usual. I am beat. A whole weekend lost to weather, but the yard is now ready to start toting stuff out. On Friday before the storm, I pulled stuff out of hiding and staged it for testing before putting out in yard. The Road Arches suffered greatly in storage. I had to replace better than half the green strings to failure. Late Friday and yesterday during the outage, I got a good jump on fixing those items. So we are in it now. Behind on the computer work, but we will have to see how we can juggle time to catch up. I should be posting a bit more hopefully as time allows. Keep checking back.


10-21-13 - Wow! 4 months since my last Blog update. Sorry for those who actually stop here and read this. I keep saying things have to get easier and less hectic, but that does not seem to happen. Facebook was updated a bit in the past 4 months, but not much there either. Set Up! has commenced. I've got 3 full weekend days on the house so far. I started the last Sunday of September. I lost effectively 7 days in October due to work and Fathers Weekend travel. I went to Pullman WA, for Chris's last Fathers Weekend. He comes home in December for good. Tracy spent almost 3 weeks in Florida on vacation in September. OK, so now the display. I have been talking about the and it is now up in the yard. It was completed on Saturday. It still need to a full up test that I hope to get to this week. It is taller than the Mega Tree, and should be more majestic in the long run. This year, it may not be too fancy, but again, should get better over time. The weather these past 7-8 days has been dry, but foggy. It does not lift till late in the afternoon, so I will not get up on the roof while it is damp. The leaves are only now really starting to fall, and I hope they finish in the next 3 weeks. Time gets split now between work, cleaning the yard, computer work and then what can be done on the display. Sleep is overrated this time of year! So, the house has the icicles, C9 outline, window wraps, porch/porch post wraps, and some of the bushes now have lights. With Thanksgiving falling so late this year, I am taking time off work the week before Thanksgiving, all the way to Thanksgiving, and have to Light Up! on Dec 1st. as We have friends who will be here and leave on the 2nd. Our newest addition is here, we call him Junior in our decorating circle, as he is a 3rd generation snowman from the famous Ziemkowski lineage. Ever since Tracy saw Lowell's Lester, and Mike's video's of Frosty, she wanted to have an animatronic character. I knew Mike was going to market them commercially, and with my schedule of late, custom making one was not going to happen anytime soon. So Mike and I talked about him over the summer, and now Jr. is here. We are looking for his "stage name", as he needs to fit in with the likes of Rudy and Elfis. That effort is being talked about on Facebook right now. This year, he may not get a large part in the show, but we will work on that. So 2 of 3 new additions are announced. The 3rd is going to happen, but I physically do not have it in my possession, yet. This week most likely. THEN I will announce it. Computer work has started. The Mom memorial from last year, the Chase Tree's have been re-purposed. I did not have to tweak them too much from last year in the Heart to where they will be this year. I have to put Jr and the new RGB Tree into all the show sequences. Not trivial, and that is being worked on in the evening. Plus Jr will have one song of his he gets to sing. Planning for Jr's location around Center Stage is now going to be a bit of a challenge as I do need to come up with something to keep most of the weather off him. I hope we do not get much snow this year! I will sign off for now to push this out, and hope to have more frequent updates as we move toward the Season, as it is almost upon us!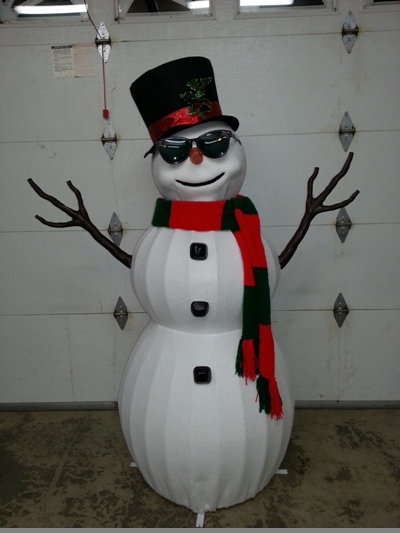 6-23-13 - Well we skipped a Fathers Day update because we were in Lake Tahoe for a long weekend with our friends Tom & Lisa. Lisa's family has a great cabin that we have heard about forever, and this trip was the one we were supposed to take LAST year on my Birthday, only Tracy broke her wrist. We had a great time. Life has been difficult of late. Work is hectic and our family alas, has suffered another loss. My nephew Michael, after just getting married in April suddenly passed away 2 weeks ago. My sister Marlene is devastated as you can imagine. The Memorial was the Saturday we were in Tahoe, so we did not make it. Life is too precious and we always get reminders of how great and fragile it can be. Live every day to it's fullest. With work, and life, I quite frankly have been have been drained and the display has suffered a bit. I am in the throw's of Honey-Do's around the house and yard, of which are important to the display, but not directly. We are circling closer to having house plans for our Lake Chelan cabin. We should be ready to submit for a building permit by the end of the summer I hope. That too will detract a bit from the display! I have made decisions on the RGB Tree, and am going DIY. Everything just about is ordered, controllers, pixels, power supplies, and I need to order some enclosures. Today I actually framed up the new RGB Tree Base and did not get a chance to mix and pour the concrete, as you can see below. It will be a whole different frame than our Mega Tree, but in the long run, should be easier to set up ultimately. We have movement though on the display, sort of, and that in itself is good. The Christmas Expo is coming up after the weekend of July 4th in Gatlinburg. Tracy and I are looking forward to a long weekend to see or Christmas buddies, and my niece Michelle and her girls. Robert is in Kosovo for another overseas stint at the moment. Not too much more to report at the moment. This is always the time of year where the updates are a bit far apart. Check in after the 4th and we should have more for you. Have a great 4th of July and summer to boot!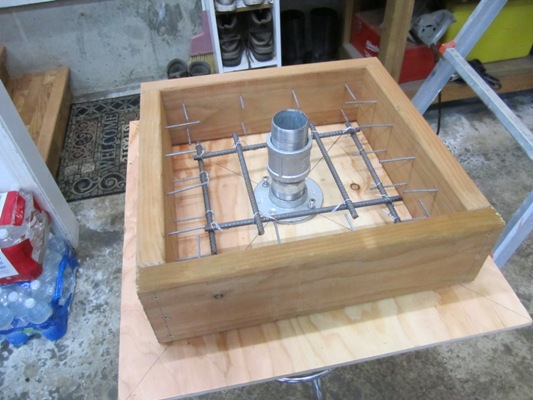 5-12-13 - Happy Mothers Day! It is hard to believe that Mom passed away 10 months ago. So much has gone on in that timeframe. Since July, it seems that I have been running at full tilt, with only a 2 week reprieve right at the beginning of the year. I bought Tracy a new bike helmet for Mom's day, and we spent the afternoon biking to Redhook and the wineries in the valley. We had a great time and will do more of that this summer. So much time since my last Blog post too! 6 weeks. We are in May, and there is still display stuff in the garage and out by they shed that needs repair and stuff that still needs to be put away! There has been no time or in some cases, energy to square things away. Now, Tracy has her Honey-Do list and NONE of that includes Display items. Hmmmm go figure, LOL! Last week was our annual NW Christmas gathering, C.L.A.P. What a huge success. We have some phenomenal talent and enthusiasm. We had almost 60 attendees throughout the day, awesome subject matter, and we also honored our friend and mentor, Bill Foley. It was a tough day without him, but Nancy will continue to allow us to experience Bill through her, and our memories. Due to work, CLAP, and Spring Clean/work around the house, nothing but some cursory research has been done for the display. I did the Powering RGB Elements for CLAP which will help me with my display and some of the new additions. I did get the new roof outline RGB pixels delivered. They too are in the garage along with my seasonal Creative Displays LED light order that was came as well. Next up on the travel docket for Christmas is the large Expo show in Gatlinburg, in July. This year is already going by WAY too fast. Love you Mom.


3-25-13 - Over the weekend I started to clean out the garage to get it organized. I can now SEE the workbench top without all the clutter YEAH! I also re-purposed Tracy's old laptop to put it out in the garage to replace the VERY old laptop that actually used to run the show in the early days. I will donate or sell that laptop at our CLAP meeting in May if anyone wants it. I also had a visit from Kurtis Clifford who is the recipient of our famed Mega Tree. Since I am working toward a new RGB Tree, this now forces the issue as we will have a large blank in the display without the RGB Tree. He was happy to get it. It will provide years of use in his display that he is just getting off the ground himself. A good win-win as they say. I spent some time revamping my EMT Bending How-To. As I had a guy locally ask me about it, and wanted some help bending circles, plus I have to bend a new RGB Tree base for that element. That requires a 10' radius circle that I had not done before. My first attempt I tried to squeeze 3 - 1" EMT sticks into 120 degree arcs, but alas, that came up short of my 10'. So I will now create a base with 4 - 90 degree sections. I started to focus on our annual Christmas gathering meeting planning. Getting sponsors lined up, and working to get an agenda together. More travel at work. Tracy and I head to Pullman for the day on Saturday, so busy, busy. More to come. Thanks for checking in.


3-20-13 - I just stepped outside to take something to the mail box tonight, and had to come back in to look at the calendar. Today, we have had wind, hail, rain, sideways rain, sunshine and now tonight SNOW! Yup it must be the first day of Spring in the Northwest! The past month has seen a LOT of travel, mostly for work, but one long weekend to Georgia, Savannah to be specific to see my oldest Nephew Michael marry his girlfriend Gaby and step son Diego. Savannah is a great place that Tracy and I will have to go back to [again] visit my sister and bro-in-law, Marlene & Rich and get some golf in! A LOT of golf in that next of the woods. In between airplane flights, I have had to focus on taxes, taxes and some taxes. I had to get my mom's last tax return done, start organizing for the Family Trust, and at some point very soon, I have to get my own done and figured out. Always my favorite time of year, NOT! There is still display stuff in the garage that needs to be put away, and stuff to be fixed, before it can be put away too. Not too much to report on the display front except some research and communication on the RGB Tree. I have decided to add some presents around that tree that will be animated elf singers in presents. A la Mike Ziemkowski of Lights on Display. I have been talking to Mike about his elf/presents to make a version of my own, for 2013. Mine this year will not have mouth movement, rather just the heads popping out of the boxes for now. Should be a cute addition. We finalized our plans for Planet Christmas Expo in Gatlinburg, TN for the summer national meeting, and at some point soon, I need to start final planning on our Northwest Christmas meeting, we call C.L.A.P. There is not too much more to update on the display for now, except we need to start focusing on the yard. There is an arbor to build, and other home projects to mix in with the Display plans. I will post more as updates occur. Enjoy Spring!


2-20-13 - I just posted video number 3. We are on a ROLL! I have one more for sure to edit and post, then we are done for the year with video. Next year I should be able to post better quality overall now that I am comfortable with the whole set up. I still will have the multiple camera angles to contend with, and I plan on doing a walk though during the daytime as a "behind the scenes" tour. I have seen these by others and it provide a unique perspective of how these come together. Ah, but alas I am getting ahead of myself. I managed 3 decent days on the Tear Down over the long weekend. Thanks to Conner Gracia who pitched in a hand, all the lights are down, dryed, stored and put away. There is still a few elements that need dis-assembly in the garage, and a good majority of the extension cords are still on the lawn to be picked up, sorted, dried, and put away. Part of Tear Down is always attempting to organize things, so in the garage, there is now a new set of shelves that allows more storage of "stuff", Christmas and otherwise. I got it from Costco and it literally divides the garage in half and the stuff that WAS there creating that barrier is now on the shelf, which actually now give us more room in the garage. This coming weekend all the cords will be out of the yard, THEN, I have to start the usual late winter yard clean up. Get the plant beds cleaned out from the winter crap dump, (cedar droppings, cones, leaves, twigs, etc....), weeds and probably the first mow of the season. There is a lot of fix it projects over the off season, some Christmas Display related, a lot are house and yard projects. On the display, some more research has been done, and a few conversations with other light crazies on the RGB Tree. I ordered new RGB Pixels to replace the LED C9's I have complained about so much, so the roof outline upgrade is committed for sure!. That will require an upgrade to an existing pixel, controller that I had previously (E681 mod to E682), probably assemble the spare E681 I have, and then figure out my power requirements and enclosures. This should be a nice upgrade for sure. Gotta run for now, thanks for stopping in and GO SEE THOSE VIDEOS!


2-13-13 - Our Family Reunion is now behind us. We spent a week in Las Vegas and Boulder City, NV. Las Vegas is what it is, we saw the Cirque De Soleil show Ka, at the MGM. Amazing. I don't mind dropping a few coins on the Blackjack or Craps tables and in this case, I dropped MANY coins, but had fun. The main activity, the Family Reunion/Celebration is almost not describable in words, pictures or videos. They can capture the scene, but not the ambiance. Through agreement with my siblings, we decided to have a once in a lifetime event for our first ever family reunion. We had the opportunity to rent Pirates Cove in Boulder City, NV. Amazing, stunning, remarkable, there are not enough accolades to describe this personal resort. A great time was had by our entire family, and those who attended our Celebration. We certainly created a lifetime of incredible memories for our family. Now, for me, it is back to reality and life around here in WA. I have a plate load of things to manage being the Executor for the families Trust, but I will not try to bore you with that stuff, except that it does cut into the time I have around the house and display. On the display front, video is now published and posted onto Vimeo. In 8 years of doing an animated Christmas display, this is a first. I have taken heat from peers, relatives, friends and I did not succumb. The Memorial vignette for my Mom, and wanting to sharing that with my family, ultimately made me dedicate the time to get this done. 2 are posted now, and 2 more will follow soon. I have to figure out how to embed the links to show the Vimeo screen on the Video Page. At least I have links for now. Beyond that, this weekend, being Presidents Day, it is a long 3 day weekend. I will focus mainly on getting the rest of the display down and put away. If I can secure some help, I might be able to get it just about completely down in the 3 days and be done with it. Things to be worked on outside Tear Down are the local C.L.A.P. meeting in May, and the new addition for 2013, the RGB Tree. Thanks for checking in.


1-31-13 - The yard is looking bare except for the Mega Tree, and Spiral Tree. Now there is still miles of extension cords all over the place, but when you go by, you don't see them. The garage is full of stuff, the porch still full of blow molds, and I need to put a lot of stuff away before we head off to the Family Reunion next Tuesday. There is still a ton of stuff on the roof, and the weather has not been conducive to getting up there to remove those items. I hope to get the roof squared away on Saturday, then have a huge putting away party Sunday morning before Super Bowl! That would leave lights on bushes, tree trunks, house and rock rivers, the Mega and Spiral Tree to get lights down and dried. Anyway you look at it, it is still quite a few more days effort, and will be completed AFTER the Family Reunion. During the week in the evenings, I have been focused on getting a LED Light order in, looking at data to make decisions on the new RGN Tree, and working on video of the display. The catalyst is that I want to complete the video of the Memorial Set we had for Mom in our display this year, so I can take it to the Reunion. Part of our Reunion will be a Memorial for our Mom & Dad. I am making a slide show, and a formal DVD of it and the videos for all our family and friends that are attending. So the good news is that video is DONE, at least the Memorial Set, and the family will see it first. Then I can re-render it for Vimeo or YouTube. I have 3 other songs to edit, and now that I am more comfortable within the video editing software, I should be able to get it out faster. However, having 8 camera angles really complicates the editing. I should hopefully get better in the future. So all told, there should be 5 songs in video for this year. Again, that won't get fully posted till sometime in February.


1-20-13 - Snow, COLD, and Tennis Elbow? We got about 2-3 inches of snow over a week ago, and then the temps plunged and it has not gone away! While it is slowly receding, there is still quite a bit in he yard and on the critical access points to the roof. We have had freezing fog almost every day, and temps getting barely above freezing during the day! Yesterday was the first full day of Tear Down over the past few weekends. Today will be another full day. The garage is full of stuff drying that needs to be put away or in a different spot to wait for me to fix it. That way I can go get more stuff to clean and let it dry tonight as well. Oh I forgot. Tennis Elbow. Since mid November or so, my right elbow has been hurting, a lot. I have a pretty high pain threshold, so I just grunted it out during the remainder of Set Up, then the Season. It sort of got a bit better while I was off work for the Christmas Holiday, then when I sent back to work, it picked up. I thought it may be carpletunnel or something using my mouse, or the ergonomomics of my home office set up. Nope, the doc said Tennis Elbow. It has been a LONG time since I played tennis of any kind on a regular basis. Ibprophen and an elbow band is the current approach for it. I am working on video! I will be getting the "dedication set" I had for my Mom done so that I can take it to Las Vegas and our family reunion/Memorial for our Mom & Dad on Feb 9th. I have been tinkering a lot with the software to figure things out, and have to focus getting it done. I have been doing that at night when I had a spare evening. OK so I am off to get more work done in the garage and yard. Brrrr!


1-8-13 - Last night I started to break down "The Tree in the Window". I got 3/4 done and needed some help by Tracy and there it sits for now. Tonight I focused on getting the pictures finished and posted to Facebook and now the website. I still used the High Dynamic Range (HDR)technique. I like the way it makes the pictures pop. Some say they look surreal, and that is true. No matter what, getting pictures of Christmas lights at night is tough, so why not dress them up some, at least IMHO. I also spent some time getting ready for the video editing. I am still not sure how that will all turn out, I hope it goes well. Tomorrow I will finish the Inside Tree, get it put away and maybe some of the blow molds that are on the porch. That will at least get the porch almost back to normal. Thursday or possibly Friday I have to head to Portland on a biz trip. So we will see what gets done during the rest of the week. Saturday, Tracy and I will head over the Lake Chelan for a site meeting with our Architect, getting ready to finalize the plans for our cabin. That will be exciting to start that process! Tracy is already starting to brim with ideas. Planning and discussion is taking place on the Family Reunion next month. I submitted our Donations to SOWA, put in for Cadence my employer to match some funds. Actually it has been a pretty productive few days all around. Keep checking back for progress and updates.


1-5-13 - The display is now technically shutdown. I spent the last 3 nights getting video. This is never easy, as you all know there is a ton of viewing spots for the display. It is so tough to capture the feel of it in video, because it is expansive. I did the best I could, taped my Mom's 3 songs, then 3 others for fun. I took the videos with my DSLR that is supposed to be WAY better than the older HD Camcorder (that I will be looking to sell). Getting the settings right stumps me every time. Some have such elegant videos. I have a very wide, and deep display. Trying to get it all in focus and have the camera capture it naturally and clearly is difficult. So I will use this as a good learning experience. We will see what the editing yields. The last song played before I shut down the songs and went to the photo loop, was Mom's song Angels Among Us. Fitting to close the display down with that song. So I went out, stood next to the Mom Angel and gave it a hug and kiss. When the song finished and faded, I had a hard time stepping out of the heart. I so appreciate all the accolades everyone gave regarding that vignette. It was special, and will have a special place in my heart too. I pulled myself away, then took one last set of pictures, and then pulled the main power plug and disconnected all the hardware from the Santa Power Panel. Tear Down has commenced. I took the Virtual Santa screen off the frame in my office to get some light in this morning, and the frame is going outside as soon as I complete this entry. Pete Peters is coming over in a bit to help me fix a new light that Tracy bought for our entry way. One of the sockets was not working and in my attempt to get at it to fix it, well, I really fixed it good. Pete, who is a Master Electrician is coming to my rescue and will be Tracy's hero to boot!. I got wind that my early season order for LEDs has to be in by January 24th!!?? I had to give Paul Sessel of CDI an ear full on that one. Normally it is mid to late February. Now I got a LOT to process in a short timeframe. So, gotta go, get things moving. Thanks again for your love and support for the 2012 season. I am already working on 2013!


1-2-13 - Happy New Year! Our most challenging year to date, is now behind us. We are looking forward to 2013 and a hopefully more sedate year. I officially closed the Display last night. I did not get a lot of time to watch the full program, as I was trying to get some pictures. As always, there is seems to be one or 2 last cars that drive up just minutes after the show shuts down and I get to break the bad news that they missed out. To that effect, I told them that there would be some blinky flashy tonight as I try to get video, LOL! It will not be the full show, rather a 3-4 song loop. I really do need to document the tribute we did for my mom, which is the catalyst for wanting to attempt that effort this year. Woodinville Wonderland Inside is in the process of getting put away, as Tracy started that late yesterday afternoon. The inside always looks so bare for the first week after all is put away. Outside of some difficult weather, and one difficult neighbor who some have labeled "The Honker", we had a grand season. With Cadence, my employer matching funds, we will be able to submit a grand total of $6485 to Special Olympics Washington, and the Northshore Wranglers. This exceeds what we did in 2012! I can't thank all our visitors enough for your support and charity throughout the Season. The Season takes its toll on the display items, and there is quite a lot of light strings to fix as I go through the Tear Down process. All that fun will start this Saturday for sure. I made notes of things I would like to change for next year, and one overwhelming thing that worked well this year, was the Peanuts Gang up on the roof. With the custom stands made to get them to stay up there, this is a good thing, as they will get marked and put away to be used next year. Then the big emphasis for 2013 is going to be the RGB Mega Tree that fell out of 2012. I am already looking at information on that to see which hardware direction I am going to take, and then start to move on it very soon. I was also approached about our local Christmas Crazy gathering, we now call C.L.A.P. (Christmas Light Addiction Program), and we have out date set for May 4th. Planning will need to start around that effort later in Feb, which is also when I have to have some idea of an LED light order to my vendor Creative Displays Inc. Never a dull moment! Next up for me personally is our Family Reunion in Las Vegas on Feb 9th. So work has to commence on that event, along with the Tear Down process. Saturday the Jan 12th, looks like a day trip to Lake Chelan to meet at our property to continue the plans for our cabin to start building this year. That will be a fun challenge to manage that process, along with all the rest of everything that goes on in our lives! Thank you for taking the time to read this Blog, and giving me feedback that you have read it. I appreciate all of you who extend yourselves.


12-28-12 - New Year and 2013 is almost upon us. We are still getting some of our friends over to see the display, and those that come this time of year is nice, since I can spend more time inside as the visitors wane some at the display. We still get good crowds, but it is nowhere near as hectic. Yesterday, I spent doing some errands, making a bank drop of our donations. Of which we are doing great! Plus this year, I can get Cadence, my employer, to contribute $500 to our cause. So at this point, we are even what we did last year. I also bit of maintenance to the display, and there is one or 2 more items that need new strings, but for the last few days, I probably wont get to them. The ones affected are almost un-noticeable. Which leaves today as a completely open and off day for me. What to do with myself. I still have to get photos, and I have to video my Mom's section of the show for my family. So maybe I will spend part of today reviewing the camera to get that done. I also found out that my Nephew Michael and his fiancÚ are getting married in March somewhere in the southeast, so we have another trip to plan back east! It is shaping up to be a busy personal travel year already for us. So in the mean time, I get to start evaluating what I want to do differently for next year, go over the season to make notes for improvements, and start to figure out some sort of LED light order. As I have mentioned in the past, I piggy back off one of my primary vendors 2013 order, but I have to have some idea of what I want and submit it to him by the middle to end of February. So my display is not even tore down and put away, and I have to think about LEDs! I burned through a lot of spares, and I have inventory that is low. It amazes guests when I tell them I keep more inventory as spares, as some do on entire houses! With a display our size, I need to keep them on hand for sure. Looks like Mom Nature is going to settle down some through the New Year and give us some good viewing weather to finish out the season as well! You still have a few nights to catch another visit or 2 and you will almost have the display to yourselves. Enjoy.


12-25-12 - MERRY CHRISTMAS! What a day, what a night, what a season! We were again honored to have Santa and Mrs Claus visit us last night to make everyone's Christmas Eve that much more special. It was just part of a fabulous and memorable night. Christmas Eve Night was my families special time. We opened presents many years at midnight and shared time together as a family. So last night at midnight, I launched a special tribute show for my Mom & Dad. As a family, Tracy, Chris, his girlfriend Amber and I shared hugs, kisses, tears and a toast for them both. I spread a bit of their ashes inside the heart that is the Memorial Vignette. We had the Memorial Announcement, Angels Among Us, the Memorial Song, and Stille Nacht, which was my Mom's favorite song. She loved our version and the way it looked on our house and yard. It was my first and still favorite show song. I have no words to describe the emotion of this season, and what it meant to me, and to finally get to this day. I have struggled all Season with tears and smiles each night that I was outside and heard her song. Many of my visitors have shared those moments, voiced how fitting and tasteful our Memorial has been. Families always have trials and tribulations, but the love runs deep, and our family is no different. I miss both my parents, and with Mom just leaving us this year, today is especially hard. Thank you Mom and Dad for everything you are to me. I love you both very much. I would love one more Christmas morning hug...........


12-24-12 - Christmas Eve. The most anticipated night of the entire year for youth and adults alike. For me, it also means that our Season is closer to being over as well, and that always makes me a bit sad. With all said and done, we have had a great, great season. I love the support from all our visitors, the laughter, smiles, and seeing the wonder in everyone's eyes. Tonight will be more so. There is some maintenance to do on the display. For some reason, I have had a lot of blue C6's fail on my window wraps. Problem is, they have all been on the upper part of the house! I have 3 more strings to replace up there. On the "Forest" Trees next to the Spiral Tree that everyone loves, there are several "Super Strings" that need replacing as well. Maybe on Wednesday after all the festivities, because then I think about pictures to post. Last night we had a cool visit from a guy in Monroe who puts lights on his entire CAR. That was impressive I must say. I still have my Christmas Cards/letter to get out in the mail. They have never gone out this late, but it is what it is, as I always say. Everyone will then have some time to really read that long diatribe I put together. Merry Christmas everyone.


12-22-12 - Our busiest night of the year is over and what a night it was! We are right at $4K for donations for SOWA. Not bad at all. A bit behind from last year, but last year was off the charts with the fantastic weather. We have had a lot of nasty nights this year, but the one thing that always amazes me, is that there is always folks watching during the night. Tonight, we had a special treat. Mr. & Mrs Claus, driving one of the coolest sleds around, stopped in and dazzled our guests. Pam & Stan Pauley tricked out a 1955 Belair for the Season. They drive around Woodinville and the area spreading Christmas cheer. This was amazing timing as I had seen them this week driving around and needless to say, my mind was spinning around like crazy! They are part of the Home Town, Woodinville Classic Cruisers Car Club. I hope to be meeting with Stan to plan on some special night to come in the future. OK feet back on the ground after that update. Tonight I was starting to come down with some bug, cause I felt it in my throat. Hopefully I can fight it of through the Holiday. I have never been sick since I have been doing the display, and don't want to start now. I FINALLY got a song, that I have had for 3 years in my display tonight. Fabian Gordon, another Crazy Light Guy in Texas had a super cool edited version of Go Fish's, "Christmas With a Capital C" I worked on getting it in for this year, and am sooo glad I did. For the first live look, it did not look bad. I can probably let it ride as-is for the rest of the season. Christmas, the big night is now one night away. Tomorrow I have some shopping to do for our Golden Girls, but after that, I am done. In case any relatives or friends are reading this, our Christmas Cards/letter is WAY late and will not go out till Christmas Eve at best. The latest EVER to get our Cards out. Sorry! Off to bed, I am beat. Wat a great night!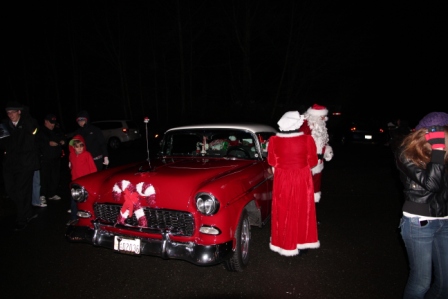 12-16-12 - We are just over 2 weeks into our Season, and it has not been without challenge. The weather has been scattered, but has not slowed the crowds down too much, but we are off a bit from last year. This should have started our busy weekend nights. Friday was pretty good. Our volunteers had a great time, and told Tracy this was the best Community Service ever. That made me feel good. Friday was very steady. Saturday saw the Daisy Troop to sell hot chocolate and cider. About and hour and 45 into the shift, the power in our area went out! Yikes. Things went pitch black. We had a stream of cars coming up the hill to see the display. A few stayed and waited out what was over 90 minute outage (fortunately), most turned away and a very few came back a bit later. Over 90 minutes lost in prime time! Oh well, you roll with it. It could have been longer for sure. So we did salvage some time for visitors. Tonight the weather again was a mixed bag, and we are expecting winds during the night. Oh yeah, our generator is on the fritz and needs to be taken in for service. Hopefully there won't be an outage of any length tonight! The weekend brought a great visit with my sister and bro-in-law, Marlene & Rich. We had a great time and visit. She had not been to Seattle in a LONG time, and needless to say, has never seen the display. Tracy, Marlene and I had a nice hug and cry during the first playing of Angels Among Us, by Alabama, the Memorial song for my mom. I think that whole dedication came together rather nicely and those whom I have told about our year, have truly appreciated what we have done, and seen the love that we have and want to share with my mom and our guests. I have still been fighting issues in the yard and the display, and a bit of maintenance needs to be done before our super busy weekend next weekend. All told, we have had more issues than usual, but again, you roll with it and put your best foot forward. Today I took most of the day off and chilled around the house. I did manage to start the annual Christmas letter, and will complete it during the early part of the week if we have power! Thanks to those of you who read these rants. They have been a bit dry, I admit, as I want to post updates and have not taken more time to think about what I want to post. Hopefully you give me a bit of slack :) Peace.


12-11-12 - Once the season arrives, it is mayhem around me and the display. Especially this year. I am juggling balls with the display, and at work. Things will start to settle down in one sense, just to pick up in another. This weekend, I plan that we will start to get busy at the display. We had our last "dark" night last night. I am not sure I like that format, and will have to think more on that approach. The Judy Pancoast concert was great! While we thought Bob Rivers was going to make it, alas, his schedule too got the best of him. So we hope to see him this week. We got about 100 visitors to see Judy, slightly down from what I thought may show up, but it was mid week. I added a new wireframe to the Sani-Can that I hope to get pictures of soon. It is a Santa Cresent Moon as you would expect on an Outhouse! Too funny. I have been fighting gremlins within my DMX Universe. I have been checking and swapping hardware out, attempting to fix strobes, and troubleshoot stuff. That is just a by product of a display this size. Of my large Zap Strobes, they both have been acting up and I have a spare on the way. Hopefully it gets here tomorrow. I think I have some of the gremlins figured out and will see tonight when the show kicks off. This week also sees a visit from my Sister Marlene and Bro-in-law Rich, who will be arriving on Thursday to spend the weekend with us. Tracy and I are looking forward to spending time with them, and sharing the Memorial for our Mom. I haven't mentioned that too much in anticipation of Marlene's trip. I personally have yet to fall into a rhythm around the season, but it will get there for sure. I am personally behind in our Christmas Letter and Cards. They will have to wait till next week, which is cutting it close. I need to get 2012 pictures of the display, and we are expecting winds tonight and then again later in the week. Hopefully it will not blow too hard. The weather has been so-so, but again, we live in Seattle and it is December. Man, where did the year go to.


12-5-12 - Tonight is the big night with Judy Pancoast. Judy got into the area last night and stopped in for dinner. We had a very nice relaxing evening. After she left, I was outside getting the yard stobe light stingers on the lawn! So the display is tightening up, things are running a bit better every day. We are still not 100% but most will never know it. Tonight for the concert, also marks my first shift with my WHS volunteers for the Season. I am looking forward to the help. I am not sure I like the dark nights. I am still trying to get caught up at work for the end of our business year as well. So I am still juggling balls with my schedule. On Monday the 10th, I will be dark, and heading to L.A. again just for a day trip to check on some things down there and see a buddies display, Mike Ziemkowski of the famed Lights on Display. I am really looking forward to seeing it live! Our next big event is a visit by my sister Marlene coming out with her hubby from Georgia to see the display for the first time! We are looking forward to a great visit with them for sure. That is about it for now. Keep checking back for updates.


12-3-12 - We are off and running! Well, to be honest, we are jogging pretty good. Saturday's Light Up! was a bit nerve wrecking when 5pm came, and there was about 30 people chomping at the bit for the show to go off, and nothing happened. Due to a biz trip Thursday and Friday, I had no time to do a dress rehearsal and Saturday was it. We were about 25 minutes late, and the crowd was very supportive, but happy when things started to blink and flash. So, dress rehearsal is just that. You go with everything to work out the final bugs. The computer "show" that I spent time on to figure out while I was in San Jose, did not run. I figured it out quickly and had to re-do the show line up. Then I spent the first 90 minutes chatting with guests, excusing myself, running into the yard to fix this and that. The most major problem I had was an 18" length of CAT5e communications cable that was messing up the DMX on the roof. Once I figured that out, BOOM, the snowflakes on the roof came alive. I still have some issues with them, that I am working on today to see what is causing some erratic behavior. Otherwise, things went pretty well. Sunday I worked on some display punch list stuff, and there are still some lights not in the yard. I had to help Mrs Clause, Tracy with the inside of the house to finish it, as we had some special guests Sunday night. Nancy Foley and her daughter Glenda's family. So, we had a great first 2 day and tonight I we see how our dark days in the schedule due. Tonight and the Monday the 10th I am taking off to get other things done and take a break. These are my slowest nights of the season. Everyone LOVES the Peanuts Nativity up on the roof, all are complimentary so far on the Memorial for Mom. It needs a bit of tweaking as any new vignette always does, to make it stand out. Pete my neighbor is always my conscious on these things and he is right most of the time. Now we start getting ready for Judy Pancoast on Wednesday! I hope we have a great turn out for her, right now it looks like the weather will hold as well. Keep checking back.


11-28-12 - WHEW! I have never kept track of hours, and this year I ran a total. Since Friday Nov 16th, to now, I have about 125 hours into the display set up. All that in 13 days! There is so much that goes into that total. As of today, we are set up and tested for a Dec 1st Light Up! There is still a good punch list to complete which will have to be late Friday night and all day Saturday as tomorrow I jet to San Jose on a biz trip. What a road it has been. Mom Nature saw to dump, I mean DUMP!, on us during the week of Thanksgiving, which I had off, then proceed to give me almost 4 full days of dry weather to do my power grid, communications and interconnect. It started raining tonight again as I was doing my controller testing. Tonight I was adjusting my Excel Spreadsheet and updating my sequence template after all the adjustments to the connections. This was due to controller proximity, hardware difficulties, etc.... So the show needs to be adjusted, but we will Light Up! on our planned date of Dec 1st. Plus I had to pull double duty inside for Tracy as well. Thanksgiving and the Trans Siberian Orchestra concert was in that 13 days, which gave me some needed time off and breaks. I cannot thank one of my best friends Tom Lieb, enough. He came up for a visit from Roseville, CA. Him and his lovely wife Lisa stayed with us for somewhat of a visit, but Tom helped me to get things done to maintain what schedule I was holding to. So as of today, the punch list is long that still exists, but manageable. The important thing is, that we will Light Up! on schedule, Dec 1st. It may be a bit rough, and some things on the punch list can be pushed out as they are not critical. I head out of town on a biz trip tonight. Once I get home late Friday night, I will be working down the punch list. Today I met with some of my volunteers from WHS Key Club and Honor Society. For my busy nights, I approached them for help, and they were excited to participate. Today I gave an orientation to them regarding responsibilities. I am welcoming the help on our busiest of nights. So there will be a lot of changes to the display function, with just a few added items for features. I really hope everyone enjoys what we have for them to see, because only a few are truly aware of the difficulty in my life this year to get here. Come on Saturday! and Light Up!


11-25-12- Sorry for the length between updates. Been posting to Facebook a bit more because it is a bit quicker. We are at the tail end of my vacation from work to get Set Up complete. As of today, we are finished with the yard layout and are starting to lay out the power grid. Which is a lot. I have switched and un-switched circuits that need to be planned and balanced for load. Mom Nature has given us our warmest Set Up week ever, but alas, probably one of the wettest as well. We have had a LOT of hard, hard rain fall this past week. While we can work in it, it certainly slows progress tremendously, not to mention, the frustration it causes, period. By Friday I was really just looking at the sky saying "Come on already" :( We have had a nice visit with our good friends Tom & Lisa visiting from Roseville, and Tom has been awesome with help, even in the pissing weather. While I am still behind schedule, thanks to Tom, I am less behind. The yard is juggled up enough to look fresh, without a lot of overall updates. The Memorial section for my Mom has turned out great. It will be a nice tribute to her. I finished the song for now, I have to see it in live action to see what needs to be tweaked. With my schedule, I head back to work tomorrow, and have to juggle things a lot. It is going to be a whirlwind for the next week, but I am still hoping to make the December 1st Light Up! Check back.


11-8-12 - It's my Blog, Christmas or otherwise, it is my random thoughts, hopefully mostly about the display and life. This is the only political statement I have made in it over the years, but here goes. I lean Republican, mostly independent, and just a little bit to the right side of center. This election was the most frustrating I have ever remembered. The campaigning notwithstanding, the country is just changing from when I grew up. From hardworking proud individuals to those who feel they are entitled and expect the government to provide. The next 4 years will see radical changes toward a European mindset, and we see where that is now, along with Socialism, Communism etc.... What ever happened to Capitalism and free enterprise. OK enough. On the display, the computer work is still in progress. I am trying to squeeze in a new song besides the new Memorial song. So 2 new ones. Surprises. Last weekend saw a lot of work outside, including hauling the majority of stuff out of hiding and getting ready to put it in the yard. Mom Nature is giving us an early Fall, the leaves are 97% finished and the gardeners got most of them up today. This weekend I head to Pullman WA for Fathers weekend with my stepson Chris at WSU and I am looking forward to it. Although, the HIGH temp for the weekend is listed at 34 degrees. Man it is going to be cold for the Cougar Football game Sat night. Early next week, I will get the final mow done, then the yard can commence. Earlier than Thanksgiving week! At this time of year it is a juggling game with work, display, and life. My mom's house that we sold closed today. So an era is finalized. The neighbor couple who bought it are perfect for the place, and they will love and respect it along with their 3 yr old son Bodhi. I love that name! My estate work is still a work in progress, but a significant amount is done, I only have to worry about taxes and the Family Reunion next year. All said and done, life could be worse. Check back.


11-1-12 - Just a quick update. Today we fire up our local radio station. We broadcast 24x7, out entire Christmas Music Collection between now and New Years. I will listen during the day while working from home, and when outside in the yard or garage, I will be tuned in as well. So if you are in the area, tune to 101.9 FM and listen to our broadcast. NO commercials or irritating DJ's or announcements. Our computer work is progressing nicely. We are DONE with the major updates to the existing songs/bits/jokes from our show. Now I add 2 new jokes, and introduction to our Memorial song for Mom, I need to sequence the new song, with a little help from a friend Kevin Thomas. Thanksgiving is early this year, and that will play into our Set Up! plans a bit. Slowly but surely we are moving toward Light Up! on December 1st. Here are some pictures of Command Central and our radio set up. The laptop literally runs everything for our show and radio station. The FM transmitter is tuned to output on 101.9 FM. This time of year I use the little "pencil" whip antenna you see attached on the left. Then I have shots of the screens. The laptop shows you the Zara Radio software interface, and you can see just how small the FM Transmitter really is, but this is a phenomenal unit.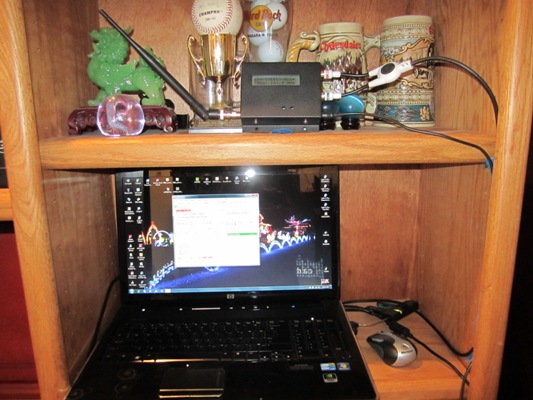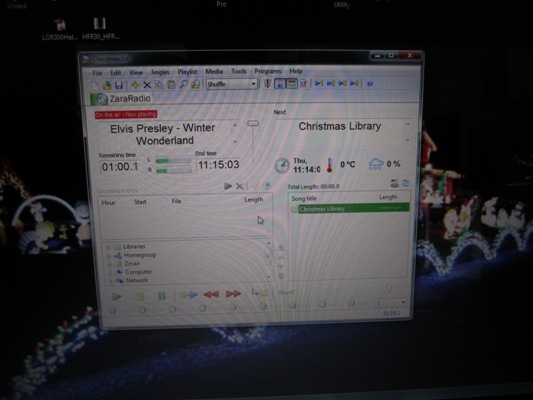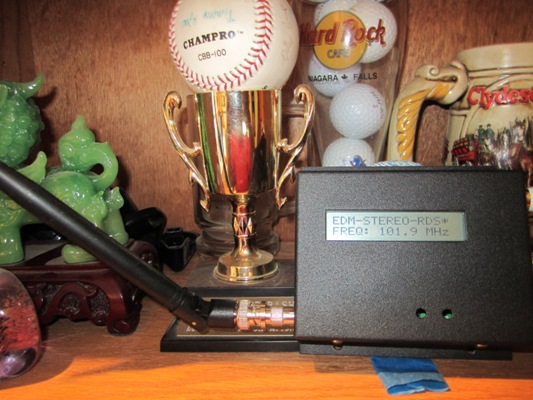 10-28-12 - Friday, there was a Memorial for Bill Foley. Most won't know who Bill is that read this. However, Bill and his wife Nancy have become Golden Nuggets in my life. Bill was a mentor of mine when I started to grow Woodinville Wonderland, and over the past 7 years, have become great friends. Bill is one of those individuals that make everyone around him a better person, for having been associated with him. Bill sadly lost his second battle with prostrate cancer recently. We held our annual NW Christmas meetings at their house. I will miss Bill greatly, and he is another part of the rough year I personally have been having. OK, too many downers this year in this Blog. Moving on. A productive weekend. We had rain on Saturday, and a nice day today. So while Mother Nature rained on our parade, literally, I worked on the ground. Got 3 of 5 hedges trimmed out, porch CC posts installed, porch bushes trimmed out, and put together the Spiral and Tree w/in a Tree frames getting ready to sting those lights. Now that may not sound like much, but there were a lot of light strings to be tested before putting them in place. Today since there was no rain, I had to finish the new Peanuts Gang raise to the roof, put Mr. & Mrs. Santa Harley (Mrs. Harley is new this year) up there as well. Now that does not seem like much, but there was a lot of parachute cord, & 240 lbs of sand, to be put in place to secure everything before the nasty weather hit. We are getting dumped with rain tonight, and it hit right about dinner time. Tracy and our next door neighbor Pete, have been behind and supporting the Peanuts Gang request for raises. As with everything we do here at WW, anytime we have to dole out more compensation, change takes time. So the accommodations took more than I anticipated. I am not sure that I like the new circumstances, but Tracy and Pete are 100% behind the raise and think it looks great. Out numbered again! No pictures till the Season starts, so you will have to come by and see the changes ahead of time if you are interested. I am almost done with my current sequence updates. Which means that I can start on the new jokes (2 new), Mom Memorial introduction, and finish her Memorial song. My partner in crime, Kevin Thomas (Wirekat) has offered to get me a start on the Memorial song. I mucho appreciate that! So while a lot of technical updates fell off the plate this season, I am feeling pretty good about Set Up! and where we stand to date. 5 pretty good days of work so far. Again, that is me by myself.


10-21-12- We went from t-shirt and shorts the first few days of Set Up! to long pants and at times, long sleeve shirt. What a difference a week makes. Last weekend we took off because Tracy and I were in L.A. We met my nephew Michael to spend some of the last moments in the house that I grew up in. We signed a contract with neighbors who are buying it, loaded up a mini van with the last of the stuff I needed to get out, and drove home to Seattle. Leaving this time, marked the end of a huge book in my life. The house will now be fumigated, have an Estate Sale and be transferred to our neighbors who are buying it. We should close in late November. It was a sad moment getting pictures with Meg and Paul, long time neighbors for my Mom. However, there was some Christmas involved. I took home some Christmas decorations that have been in the family for decades. Then, Tracy and I met Mike Ziemkowski, of the famed "Z-Tree", in Sherman Oaks on our way out of town. We saw some of his new additions for 2012, We got the chance to admire and hold his famous Emmy from last year. Then we had a wonderful lunch with him and his Mom. Tracy and I stayed that Sunday night with our friends Tom & Lisa in their new home in Roseville, WA. Then we trekked it home, braving torrential rains as we got into Oregon. Yup, Fall is definitely here. This weekend was spent getting the Peanuts Gang a new spot in the yard, well actually on the house. The roof to be more specific. Tracy has been wanting them there since she first saw them at Kyle and Megan Carlson's display 4 years ago. They finally made it. It was no easy feat getting them up there and making sure they would be secure enough through the weather. I think we got it though. There is still a few things to go up on the roof, and if the weather allows, that will be next weekend. We have a long way to go outside for sure, and having Thanksgiving early this year is going to help. We got the porch completed and next we will finish the roof, then start on bushes and wraps. Evenings during the week, are now allocated to updating sequences and getting one new song added. Time is ticking away, and we will see after next weekend how we stand. Keep checking back for update.


10-8-12 - One full week of October behind us. One week closer to Light Up! and the season, one week closer the end of the year, and hopefully a better 2013. Bare with me a second, I don't mean to be a downer, but I lost my mom, could still potentially lose Tracy's mom, had 2 very special people in my life, one came back from a "near death experience", one is battling prostrate cancer and is in CCU himself, plus Tracy still has issues and complications with her wrist, that may require surgery to fix (i.e, re-break, set, cast), we find out today as a matter of fact. Last Sunday would have been my Mom's 86th Birthday, and it was the first in 52 years, that I could not wish her a Happy B-Day. You need to put things in perspective I guess, but how? I have always been a strong person internally, and I guess I now know why I have that trait. So, yes, the display is moving forward, slowly. It may not be what I want it to be, but right now, it is a welcome distraction if that makes sense at all. You may be thinking, where are your priorities man. Well, one of those priorities is to ensure I have a balance at all times. Right now, focusing on the display is my balance point, otherwise, then I would be going nutso. Soooo, we have had 3 glorious days to focus on the display. I mean shorts and t-shirt hot weather. We are having an Indian Summer here in the PacNW and almost no rain in almost 3 months. Icicles are up, Bethlehem Star, red roof outline, House C9 outline, Roof Snowflake fall brackets are in place. During the week, I actually started serious computer work (in between hospital visits). I am glad I got a jump on things, as I will lose this next weekend on account that I have another trip to L.A. to visit mom's house, get the last of the items I want, and to drive back. I connected with WHS and the Key Club, so it looks like I will have volunteer help this year with our busy nights. Check that off the list. 4000 candy canes are ordered and on their way. I really need to get my checklist down for all the minute details that need to be dealt with. The roof will get an overhaul and that is partially what I was working on this weekend as well. I can't give away all the details as you will need to visit and see or wait for me to post pictures during the season. I had a very nice visit wtih Roger DeBolt of Boise. He was in Seattle for the weekend, and we spent 3 hours or so Sunday afternoon talking lights and life. Thanks Roger for a very welcome diversion and some great ideas! Well, we are moving, sort of limping along, and we see where the next 7 weeks takes us. Thanks for taking the time to stop in and read my rants. I really like it when someone mentions things in casual conversation and then I realize it came from this page.


9-29-12 - Today was very productive. I decided that in fact tomorrow we will commence with Set Up! So today I started getting ready by pulling some totes out of the shed, and placing them into the protected area along side the shed. One of the big reasons I covered that area is to put totes there and protect them from the weather. By pulling some totes out of the shed, it allows me room in the loft where the Christmas stuff is stored to work, move things to get at totes I need etc.... You kind of get a feel in the pics below. I did get a new Donation Box for this year. Once I took delivery of it, I then realized that the entrance would need an overhaul, as the post was shorter that old box. It is also a bigger box, which causes some mods to get it to work. The old box allowed me to put the display flyer and sign on it. I modified the post and receiver today, and while doing so, found .11 cents dropped in the rocks. So we have a start for our SOWA donations for the year! Afterward, I mocked up Box to take the pics below. Now I am redoing the mistletoe setup, by making another (taller) Candy Cane pole, with a light, hang the mistletoe and Display Flyer box/sign on it. At least you can see what the new Donation box looks like. The new mistletoe/flyer Candy Cane post is being worked on, and not yet completed. The Donation box is larger overall, 2 piece so the box bolts to the post. and it now has a door to pull. Having it in 2 pieces is definitely more convenient. The advantage of the shorter post, is that kids can now reach it without being lifted by their parents. Next year I will put a mod on it, so that when you pull the door open, a light or something will turn on. Mr. Snowman got his final touch ups today and is done as seen below as well. Mrs. Snowman will go as-is this year, but will need some attention most likely next year. I also mocked up the memorial vignette I will have for my Mom this year. I had Tracy review it, and she gave a fabulous idea to help make it stand out. No pics or clues as it will be the surprise addition for the year. Last night I tested a firefly laser in the trees. I need to design weatherproof enclosures, and 4 or 5 of them will get used this year buzzing the trees and a bush. Lastly, I pulled out the Icicle lights, pulled off 25 strings, tested them and we are ready for the roof tomorrow. Below you can see how I store them. Those 25 strings represent my single largest electricity draws in the display. I have babied these strings over the years, as most of them are almost, if not, as old as our house at 15 years. Hanging them like I do keeps them straight can causes less wear and tear on the sockets. Alas, as the clock strikes midnight tonight, it would have been Mom's 86 Birthday tomorrow. Happy Birthday Mom. I love and miss you.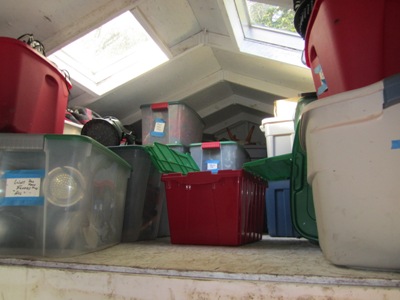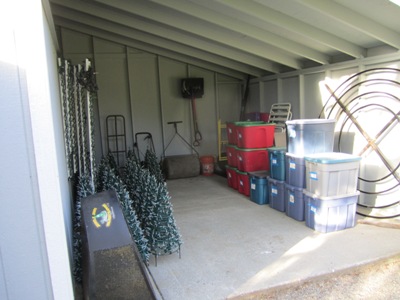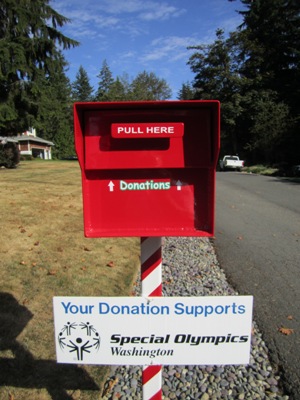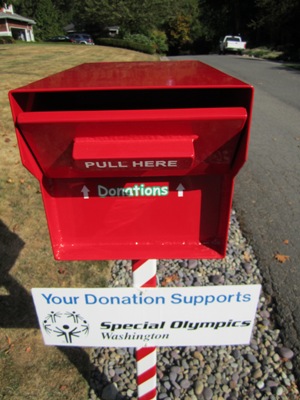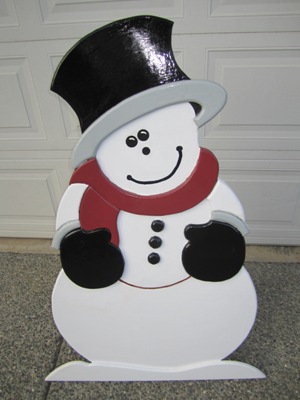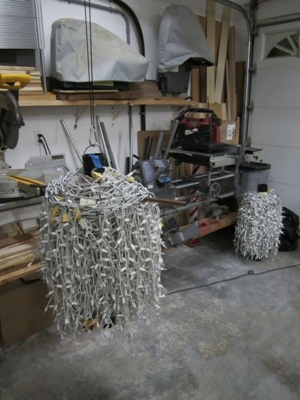 9-23-12 - Well, I got some things done this weekend. Finished all the Mini/Chase Trees. 32 done. Whew. Glad that one is behind me. The concentric EMT rings were mounted for the Tree w/in a Tree base. Some of the paint needed touching up. Check that one off the list. Next I started the Snow Family fix. Mr. Snowman, of Yellow Snow vignette fame, needed a bit more fixing than anticipated. As you can see from the pics below, he needed almost the entire left side build ups replaced. Putting him away last year, I noted only the left glove. The Snow Family, as written in the past, are one of my first home made items for our display. Mister is probably 14 years old. They all have had numerous paint jobs and touch ups. This is the first major overhaul. I checked his scarf and I thought about leaving it for the season, but it really needed replacing as well. The parts were spongy and once removed, the wood was very damp, so the moisture was sealed in and the wood was deteriorating. Based on these characters, I did a Build Up How - To a few years ago. However, I am re-thinking some of the decisions in that document. Like, on the 3D parts. I am going to use solid wood instead of hardwood plywood. Those pieces tend to be small, very detailed and the intersections need to be primed, and possibly caulked before final paint. I kept the plans on these for just occasions like this. Mrs. Snowman needs some work as well. Maybe during the week I can split time with garage and computer. Set Up is supposed to commence next Sunday, the 30th. I have moved this to Around Oct 1st and working only on weekends. So there will only be fixing things just to make them show ready. I still have computer work to do. Dec 1st is Light Up! The icicles are always the first to go up. My, my, my, this year has really snuck up on me.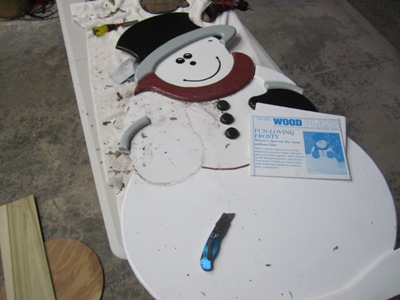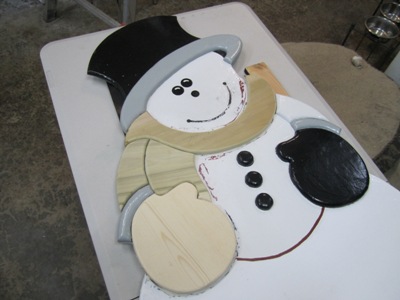 9-22-12 - Almost a month since my last update. I just got back from a 6 day business trip to Boston. While there, it was told that I would not be going to China this year. I really do like that trip, but doing it around Halloween was always a cramp in the schedule. It was better when we moved it to May. Anyway, I may have to go sometime in Q1 of next year. I have 30 of 32 Chase/Mini Trees done. I have gotten a new piece delivered that will be merged with these tree's to make the memorial for my mom this season. I think it should turn out very nice. I won' give more details till later. The Chinese vendor I am working with on the roof outline upgrade has put me in a bind. I paid for stuff 3 weeks ago and it is still not yet here. A lot of us use a guy named Ray Wu for pixels and other items. For some reason he has not shipped it, but I was told it would go out on Tuesday. Which means another 8 day delay :( I am not at all happy. I am really coming into this season very lackadaisical. So starting today, there has to be a concerted effort to get things moving. I am not changing or adding too much, but I have programming that needs to be started. Once the last 2 Trees are wrapped with lights, I start the fixit list from my notes at the end of last season. Next week, on the 29th, I start the process of Set Up. It's hard to fathom that the season is coming quickly and we are just over 2 months from Light Up. Yikes!


8-29-12- I was so proud of my second concentric EMT circle base for the Tree Within a Tree frame that I wrote up a new How-To. This one on the finer points of precision EMT bending. I have never seen anything on the forums on this topic, so it would be good to get it out there for all to see and use. A bit detailed to cover all the nuances, but I think it turned out great. Check it out: Precision EMT Bending


8-27-12 - Tonight I finished my newly recreated Master Spreadsheet. I go more into this document with a new addition to the "Behind the Scenes" section on the "How-To" page. Also to date, I have completed 16 of 32 new Chase Trees. Half way done. My hands and fingers are REALLY tired even though I use a zip tie gun. I can get a couple done a night, and still have time to work on the computer. My 2012 Sequence Template has been updated with the new changes so far, and I am just about ready to start my computer work. I may make one more change/addition as mentioned previously, the replacement of the roof outline C9's with RGB pixels. If they make it, they will be "dumb" pixels and not "intelligent". I started to work with a Chinese vendor for the pixel and lenses. More on that in another update to the "How-To", at a later time. I had a good buddy, Pete Peters, give me a lesson in electrical conduit bending yesterday. I need to do this periodically. Currently, I am making 4 new concentric circles out of metal 3/4" conduit. These will go on the "Tree Within a Tree" frame. What I used before was the PVC conduit version. So there is a 3', 4', 5' and 6' circle I make. Each circle allows me to attach lights to for a particular color. I am mainly doing this to get some experience doing it for the RGB Tree next year, and it will improve the Tree Within a Tree frame. I have a bending station that I made up to assist with this. I will get a picture. I have also started to look at my To-Do List to get an idea of what needs to be fixed before "Set Up" commences. Thanks for looking in on our progress.


8-20-12 - I was looking over the webpage and realized some pages needed a bit of an update, and there had not been a Blog entry for almost 3 weeks. So I sat down to freshen things up. First I adjusted the Blog Font type to make it easier to read this stuff. My eyes are getting older for sure, and this is easier for me to read! When I keyed in the date, I realized it has been exactly a month since my Mom passed away. I was in L.A. for a week after she passed away, and I will be heading back down Labor Day Weekend, to meet my Brother and Sister, spend some time together, go through her house, and make some decisions on the estate. It has taken a while to get back in the swing of things. Emotionally I am OK. I am more happy for Mom than anything else. While I will miss her terribly, she is now not in pain, and where she wanted to be with my Dad. So we will be dedicating this season to her. The biggest issue for me, and I am sure it is somewhat depression related, is that I was/am physically drained from everything. I am still recouping from that. I also got a virus of some sort, and had to go to the Doc to get some antibiotics. We also had a Wedding Celebration Party for Tracy's oldest son Cameron, new wife Heidi, along with new grandson Jake. Then we had to get Chris, the youngest back to WSU for his senior year. So with everything going on, I JUST got around to picking up activity on the Display yesterday. So if you look down at the entry dated 6/23, you see a picture of the new Mini Chase Trees. Of the 32 I am adding, 12 are done. As of last week, I made the decision to postpone the new RGB Tree addition. This for 2 reasons. First the logistics did not work out. With the time I had to spend managing Mom, I lost a lot of ground working to get hardware secured. I was going to settle on a plug and play option here, a bit more spendy, but with the time I lost, it would of helped get it done faster. Well, that decision came back to bite me. Had I of gone down a Do It Yourself hardware path, I might have had some chance. My vendor is not ready with product I wanted, (and was told would be ready last month). Then there is the pure programming aspect. Coming this late into a major addition, the sequences would have been so-so. The Mega Tree that the RGB Tree is replacing is a major component in the Display. The RGB Tree will be a HUGE addition for sure, but if the implementation this year was shoddy, I would not have been comfortable with that. So instead, what I may try to pull off is a RGB roof outline. I have red LED C9 bulbs that profile the roof tiers. If I just replace those, I could upgrade the display a bit. We will see. I did manage to upgrade the Donation Box. The old one did a great job and has found a new home at West Seattle Lights. I went back to Fort Knox Mailbox and had them customize one for me. I got it bigger, so that on the busy nights, I won't have to make a drop during the middle of the show. I was never really comfortable when I had to do that. The new box needs some tweaking to work, and in 2013 I hope to have it interactive somehow, so that when you open the door, it switches a light or sign of some sort. I will post pics after I get it modified. Tonight I sit down and start to go through logistics. I have to update my display spreadsheet with the new controllers for the Chase Trees, the replacement hedge planted in 2009, on the west side of the house is only now ready to have lights put back on it. So I need to figure lights, a channel, and add it back into all the sequences. Once the spread sheet is ready, I can program my new 2012 Sequence Template. This becomes the baseline for the new feature additions. THEN I can sit down and start to update the sequences (the computer work/programming). The goal now is to add one new song. I want to revamp some of the announcements, certainly the Opening and Closing remarks, and see if I can freshen up the jokes and bantering bits. THEN I have to start the fix-it list from the issues noted at the end of last year. Ahhhhh........... we are behind for sure. Lots to do in the next few months. Keep checking back for our progress.


8-1-12 - In our lives we get occasional reminders that life is fragile, and needs to be lived to the fullest extent we can. We got one of those reminders on July 20th when one of the main Lights in our life passed from this world into Heaven. Sadly Mark's mom passed away after a pretty short, quick decline following an accidental fall. Our life has been consumed in the past 3 months with adversity here and in L.A. As sad as we are to lose Mom, we understand that life goes on. Difficult as it may be, those who survive a passing, need to turn to each other and those around us for support, and continue to live life. We will do that. I find myself lost at times on what to do next. There is so much to do to put life back together, that it requires a focus to determine our course of action. There is still healing to do, an estate to settle, a home life to embrace, work and yes our Display. It is hard to think about Christmas, festivities and celebrations when we are still grieving. Today, I need to really make a concerted effort to put a short plan together to manage things moving forward. Please keep my Mom and family in your prayers in the coming months as we put our lives back together and move forward.


7-10-12 - As the saying goes, "when it rains, it pours". The day after my post below, my lovely wife Tracy became an invalid. She was playing badminton, went to retrieve a birdie, rolled her ankle, badly spraining it, but the big blow was as she fell, she broke her left wrist. This is a woman, lucky enough to not have ever broken a bone in her life, till now. Now a double whammy with the ankle. If that was not enough, I got word the very next day, that my Mom was heading back into the hospital. So I was torn with duty. I am certainly being challenged and tested for something. What, I am not quite sure. Tracy is going to get better eventually, Chris is home from college, and the neighbors can help, but Mom was failing. So I had to head off to L.A. earlier than usual. My, my, my. We got mom over her health hurdle and back home. I then came back to Seattle. Tracy and I were supposed to head to Reno to visit our friends, Tom & Lisa Lieb for the 4th of July and my Birthday. Well, Tracy has been in a lot of pain and discomfort with her wrist. So we canceled Reno for now. OK so I had a week off, because Cadence was closed for the 4th, so what to do beside playing housemaid and nurse. Well, so this all sounds like the lyrics to a bad country western song of late, but not all is bad news. Tracy's oldest son Cameron during the week off, married his fiancÚ, Heidi. So we have a new daughter & grandson-in-law in the family. This was the bright point of the week for sure. Tracy has been planning a engagement/marriage party at our house for a few weeks, and has a list of Honey-Do's to get the yard ready. One of them is the planter beds badly needed composting. They look marvelous once that is done, but there is a lot of sweat that goes into tossing about 13-14 yards of compost. So instead of hiring it out, (because all extra cash has been going into plane tickets to L.A. lately), I did it myself. As of this writing it is 95% done. 12 yards have been bought, hauled home, and shoveled into the beds. I still have one yard to get into the center island planter bed, but that will have to this coming weekend. I did a trailer load a day for 4 days. My utility trailer holds about 3 yards. Once down, it has to be watered to have it settle. My birthday was on the 6th, and I spent it tossing compost. So, then Mom goes BACK into the hospital AGAIN, on my birthday! The fun never stops around here! I was not going to make another trip down, so I managed things from here as best as possible. She goes home today again, still with 24x7 home care, but we also have gotten her on Hospice. That should stop the knee jerk 911, hospital, transition care, home cycle. Thankfully I have a things set up to care for her, and have enough confidence that she will be well managed in the time she has remaining. In the mean time, life goes on. So no work on the display in almost 10 days. This will be a challenging year to pull something together in December, but the "Show Will Go On!" Keep my, Tracy and my Mom in your thoughts and prayers.


6-23-12 - Movement. Finally a project started on the display. I started to talk about this on the Facebook page. There will be 32 new Chase Trees in the yard. These were inspired by my buddy Kevin Thomas (Wirekat) who has over 90 trees running up his driveway. A look that I always have loved. So while I won't have near as many, it should be a great effect for sure. I have been using more wireframes from 3G Lighting Creations, and these follow suite. I had to modify my lazy Susan to make this chore easier, so I welded 2 brackets to hold the tree in place as seen below. I then string 250 LED lights on the frame, holding them in with zip ties. All told the process takes a little over an hour per tree, figuring that I have to strip all the little tags off the light strings, string the lights using approx 50 zip ties per tree. I have decided after many years of use to retire my Donation Box and get a new one. I am working with my vendor Fort Knox Mailbox on a new larger model. The old one required on busy nights to be emptied during the night. Something I was always not comfortable with for a few reasons. We may be able to do some cool things with the new unit, probably not this year, but next for sure. The old one is going to a good home, West Seattle Lights. The other big announcement I made on Facebook is that we have agreed to another performance here at the display by Judy Pancoast. Judy sings the song, The House on Christmas Street that we have used for years. The date will be Wednesday Dec 5th, which is a bit of a relief for me. Originally there was discussion around December 1st. I would have had to kick it hard to ensure things were ready to go if we held that date. We do this performance for our Charity, Special Olympics Washington and the Northshore Wranglers the local SOWA team. This should be a great event, and I am looking forward to that special night. Alas, however, all is not peaches and cream in my world. I am keeping an eye on L.A. and my Mom. She is not doing well, and as I posted earlier, we have a very limited amount of time left with her. I will be heading down to L.A. this coming Thursday for a few days to check on things. Please keep her in your prayers. Sorry to close on that down note, but it is the weekend, and I have projects to work on. Keep checking back for updates.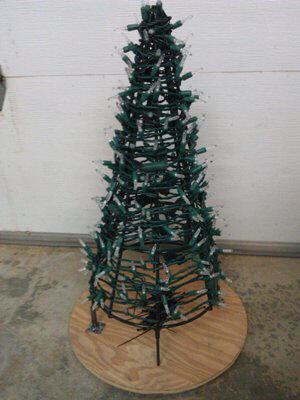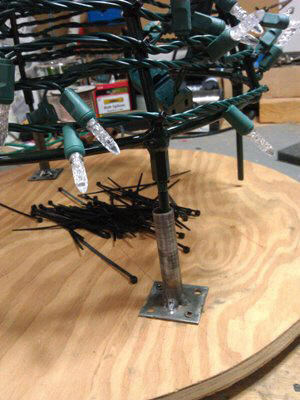 6-19-12 - 190 days till Christmas, even less till Light Up! The clock is ticking again. Tracy and I just got back from the Lone Star Holidays, Academy. A large, 3 day Christmas Light Enthusiasts meeting in Houston, Texas put on by our Texas brethren. A great time for sure. We had 4 other light crazies from the PacNW attend, so quite a nice representation from WA state. I got a chance to meet a lot of folks I have not ever met in person, which is one of the great benefits of events like that. Tracy and I spent a lot of time with great old friends, and met several new ones, especially Alan Sielbeck of Lipton Lights in Franklin TN. Alan didn't know what he was in for when he joined us for dinner on Thursday evening, but he fit right in with us, and our circle of Light friends expands even more. Tracy and I also got upgraded to First Class for the flight home! A great Fathers Day present. I felt bad about abandoning our good friend Kevin Thomas, but First Class on a 4 hour flight, I could not say NO! So Kevin got into our exit row seats instead of us. Anyway, I have a new sense of vigor toward the display and need to really start moving on things. Between my last post and now, I have really spent no time on the display at all. Rather I spent almost 3 weeks in L.A. with Mom, working from there, and tending to her health care and estate management. The days were long and very tedious getting many things squared away. She is all set for now, and over the next few months, I will assess what our next steps are with her. Even though I worked from L.A., I had a lot of catch up to do once I got home both at the house, and at work. There was one yard project to complete that I started a few weeks back. I finished cleaning the river rock on the road. I must be the only guy around who does this. With the rain and all, dirt, road grime turns to mud, and attracts weeds. Cleaning it looks a heck of a lot nicer, and reduces the time removing weeds from that area. I do this about every few years using a screen and 2 wheelbarrels. It is tough to tell from the pictures below but the first one picture shows the mud toward the bottom edge after it was weeded. I dig up the top 2-3", screen it off, then wash it before placing it back. Quite an assembly line to do. You can see the clean rock at the top of both pictures. A bit hard to tell with the resolution of these but take my word for it, it makes things look a whole lot nicer.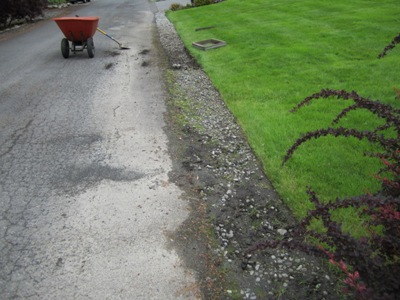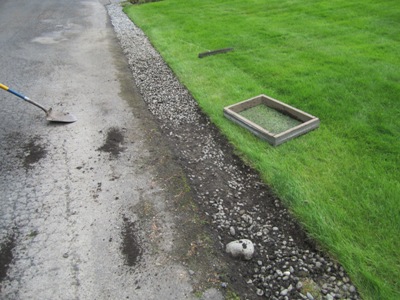 Then we left for Houston. A whirlwind 5 weeks. With all my time away from home lately, the Golden Girls are PISSED at me. Boy did I get the cold shoulder for a day or so when I got back from L.A. They got over it quick enough but were not happy with me leaving again for Houston. OK, the display. I think we made a decision on our RGB Tree direction, and it will be a lot of work to pull it off. Mainly from a programming/sequencing perspective. From the Academy event, I brought home my 32 new mini tree frames from 3G Lighting. They make a great frame, and I could do it for less than they charge, but not by much. Plus they are powder coated. Shipping was only $20 for all of them because I brought them home as luggage on Alaska Air which I get 4 free bags when I travel. Tracy had to check her bag, so 3 of the 4 boxes were free, and I had to pay for one. Bummer. That was a great idea Michael Gardner of 3G Lighting gave me! These will be Chase Trees in the yard. I love that affect and it will be a fun addition. I am looking into adding a few lasers if they make sense in the display. I am ordering some for tree accents, and one for picture accents. We will see how they work out. I need to focus on 2 new songs, and new announcements and bits from Rudy and Elfis. So I will be working with Kevin Dunn the Demented Elf on those bits. I need to sit down here this week and outline my To-Do list to start prioritizing items and get moving. It is still early, and I can catch up. This turned out to be a lengthy update with everything going on. So keep checking back to see what we are doing.


5-15-11 - What a difference 4 weeks can make in our lives since my last update. I have been able to complete some house projects that the Spring always requires, build the Redeux of the Garden Bridge in the picture below, prep and execute our annual local Christmas Meeting we deemed NW Regional CLAP (which was a huge success), finish a set of Cornhole boards for the family that I have been wanting to make, and, get the yard somewhat tended to as well. But alas, the dis-heartening news is that my mom fell 2 weeks ago and is in a Care Facility recovering from a fractured pelvis and broken wrist. My Brother has been there with her, and my turn is this weekend. I plan on being in L.A. for 2 weeks. For her, this most likely is the beginning of a more convalesced life. It is frustrating, for her and our family, but something that we will persevere through. Some hard decisions need to be made about her for the long term, and her well being. I will take a few things down to L.A., so that I can get some display work done in the evenings, but I suspect I will be pretty busy getting Mom situated. The mock up of the RGB Tree for CLAP turned out well. It gave me a flavor of the logistics and programming of the Tree will work. Now I have to make decisions on hardware and pixels, but you can see examples below of what this stuff looks like. The new hook head is shown below. It will accommodate 64 pixel strings. The pixel strings are comprised of wire and a flat ribbon cable. The trick here is to come up with a way to very uniformly space them and make them face the right direction. More on that at a later date. Next is the RGB Pixel controller. While the one pictured may not be what I use, the idea is the same. Needless to say, I am a bit distracted with life at the moment, so for now, I can only give Christmas a cursory effort until things get more stable, so with that, I will close with this update and get more later.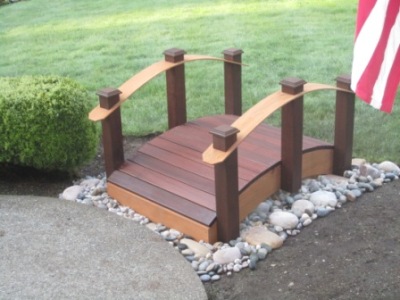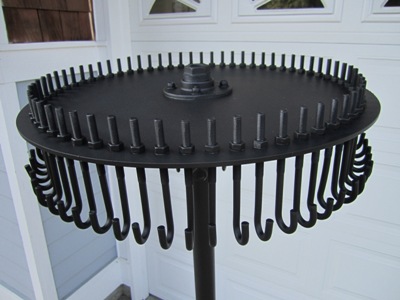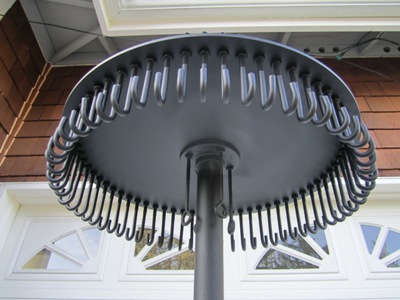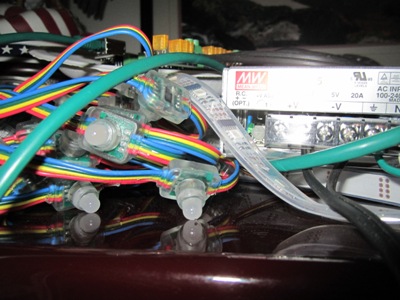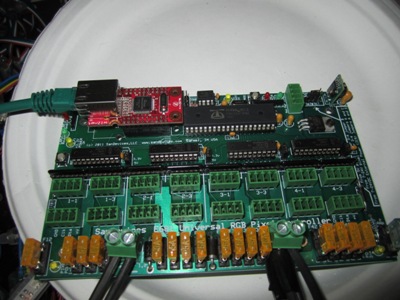 4-12-11 - As luck has it, I went to L.A. last weekend to spend some time with Mom for Easter, and while the weather in SoCal was outstanding, we had just as nice of weather in Seattle. So I lost a weekend of work on the yard/house. Now that Spring is fully upon us, I have a full line of projects outside that need to get done. One big project is a lot of lawn work. I need to thatch and overseed, fill depressed spots (moles) and get the yard in shape for the summer. I really need to do a renovation, but that may have to wait till next year. I am now trying to juggle house/yard with display. Yes we are finally moving on display planning again. Work is in full swing on the possible RGB Tree addition. I am trying to determine the best approach for me, so I have been doing a lot of research. Plus, I have been helping another display buddy, Lowell Fuher, with his RGB additions (Tree and other things), which helps me too. I have a topper plan from the Monkhouses's of Louisiana, and trying to decide pixel control and pixel manufacturer. Some of the frame plan is coming together as well. The software for programming needs some review. I have a super product called Madrix, but need to fully get my head into it. The 2 big additions for 2012 will be the RGB Tree and 32 more Chase Trees. I am talking to my vendor to make the Mini Tree frames, and the lights for them just showed up yesterday. As I get moving, I will take some pictures and post them here to give you some perspective. With our local Christmas Gathering, CLAP, on May 12th, planning is underway. I have the RGB session, so that is also forcing me to get myself immersed into that area to help me with my RGB Tree. Think of a tree that can be any color, have any pattern, picture or even video displayed across it. That will be the RGB Tree.


3-19-12 - Home from Mazatlan Mexico late last night. What a fabulous vacation. I love that time to decompress after the long marathon of the display Set Up, Season and Tear Down. Mostly we spend time just relaxing by the pool or on the beach, playing volleyball, or other activities, eating great food, spending time with family and friends. It certainly is re-invigorating. I have the long process of getting caught up around the house and at work after being gone for 8-10 day. Our Golden Girls were sure glad to see us all. We did have a house/dog sitter who is fabulous with them, but they do miss us all when we leave like that. So that is the update for now. Nothing new on the display till I get some things done around here, like getting our taxes done! and a few other miscellaneous items. Check back.


3-5-12 - Well, 2011's display is now a distant memory. Over this past weekend, I was able to get the rest of the display down, dried, stored in totes and mostly put away. There is still some stuff in the garage to be organized a bit more, but just about everything is in hibernation till Fall. So the garage looks a WHOLE lot more spacious. This was the longest Tear Down I have had to date. With the weather, and other commitments, it took 2 full months, figuring I shut the display down on Jan 3rd. Funny coincidence, today it snowed yet AGAIN. A dusting compared to the weekend before last. It started out as hail, then went to a full on huge flake dump. It went like that for a couple hours to where on top of the hot tub, it was a solid inch or so worth. Then the clouds parted, and the sun is now shining as I write this. Casa Zembruski has taken some licks in 2012 for sure. Besides the weather woe's, we did some renovations and fixes to the place as I outlined in other posts. Outside of some planned items, things just seem to be breaking left and right. The washing machine, my Sequoia 4x4 needs brakes and ball joints, my home office chair, the Hot Tub, the (central vacuum)vacuum cleaner wand and a few others. Normal things that needs maintenance, but it all seems to be hitting at once. The latest project was to extend the shed roof to protect items from most of the weather and foliage, as you can see in the pictures below. I also included a picture of the loft inside the shed which serves as storage for the display totes. It's a bit dark, but there is 120 square feet of storage that is just about all totes and other items. The shed renovation still needs painting, but that will have to wait till the weather improves. This week we will hopefully be cruising into our Mazatlan vacation. Fun in the sun and relaxation is certainly on the docket for 8 glorious days.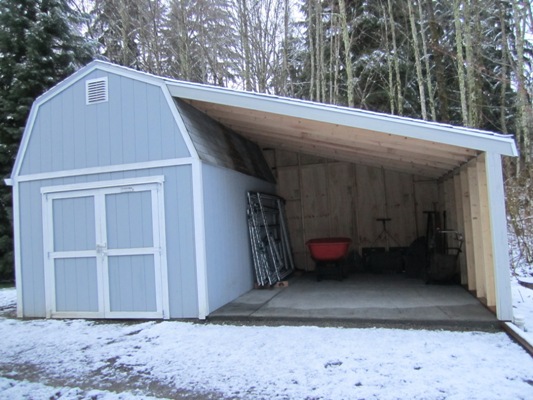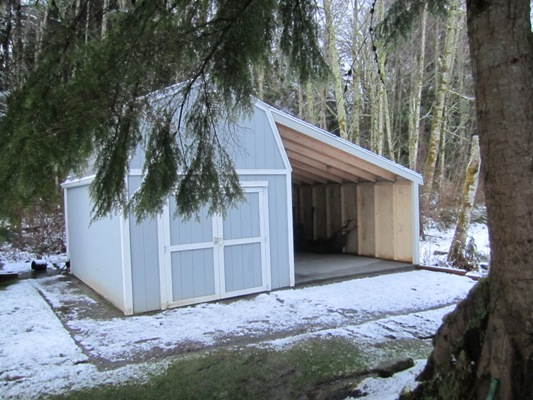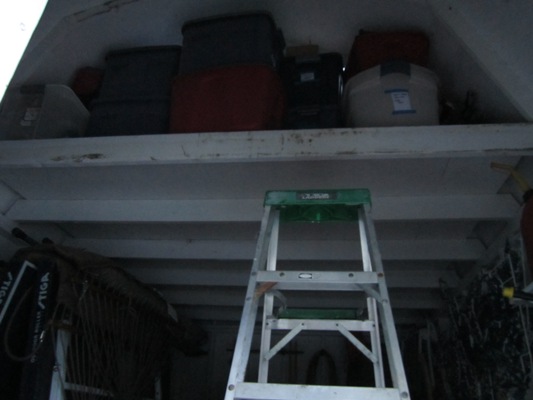 2-20-12 - Happy Presidents Day! I was off work today, sort of. I still put in a couple hours for work throughout the day. Work has picked up and the last 2 weeks have been quite hectic with long hours. So no display work during the week. Speaking of the display, I put a solid effort in over the long weekend, and it is now about 95% down. 3 of 4 window wraps are still on the downstairs windows, the House C9's, the Road Tree has the upper branches still strung with lights (I won't get in that tree in bad weather). Then finally, the last of the extension cords off the lawn. Most of the cords have been put away, but the is still quite a few hundred feet worth out there. All told, another solid days worth of effort and that should do it! A lot of the totes have been put away in the shed. So it is starting to look like a normal house again! Over the weekend, I picked up the effort with the Planning Committee to get an update on our Northwest Christmas Gathering on May 12th. This year, we changed the "name" of our get together to the PacNW Regional CLAP (Christmas Light Addiction Program). It helps for those of us like me, who have the CLAP. Christmas Light Addiction Problem. I actually started spreading the CLAP quite a few years ago. I put it in my signature file for the various forms I participate in. It is quite contagious, and has spread pretty quickly. If anyone is interested in attending our CLAP, send me an email. So, yes, we are a bit crazy to be thinking, talking and demonstrating Christmas outside of the season. There are gatherings like this all over the country, and throughout the world actually, with Australia being the next major active country. We are not a large group, but very active. Each year, we get approx 40 attendees. I have been talking RGB lights/pixels with Lowell Furher a good friend in the Tri-Cities. you may have seen Lowell's creation on MSN this year, he crafted a animated Snoman called Lester. Lester was a BIG hit for sure. Anyway, this makes me want to start moving again on my RGB Tree. I will be talking this week to a gentlemen in Texas about this, to see which direction I may go with this. Tracy celebrated her Birthday on Thursday. I had to travel to Vancounver, BC on business that day, so we went out to dinner on Friday to one of her favorite restaurants, Seastar & Raw Bar. She had her favorite, the Crab Legs! Nothing more to report, except we are at 19 days to Mazatlan and counting!


2-14-12 - Happy Valentine's Day! Let's see. Los Angeles was a nice trip. Good Superbowl game to watch. We had an unexpected surprise where our friends Tom and Lisa Lieb were traveling through L.A. on their way to Phoenix and stopped in to catch the game with us. Mom is doing fine, got her taxes done which was the main reason for the trip, but visiting was nice as well. This past weekend I finally got some time outside and in pretty decent weather to work on more display Tear Down. The 3 "big" trees are down. Mega, Spiral and Tree within a Tree. I got the rest of the roof red outline down, with the lower tier of icicles still remaining. Rudy and Elfis's frames, and the Road Arbor. Some miscellaneous cords, and other items were pulled in as well. There is still quite a bit of lights in the yard, but not noticeable. So I will spend some time President's Day Weekend getting more down. There is probably a solid 3 days left to get things out of the yard and off the house. Put away properly is another thing all together. I am picking back up some of my quest for an RGB Mega Tree, but other than that, we are definitely in the slow time of year as the tear down is boring to talk about. Our Mexico vacation is the next big thing on the docket in March. Look forward to some fun in the sun!

1-29-12 - I just noticed my last few posts had the wrong date! The were marked for November. Can't be, the display in not DOWN from 2011 yet! Pictures of the display for 2011 have been posted to the website and Facebook. The HDR technique worked pretty well for my first time. Hopefully I will get more chances to work with that during the year to get better results next season. The Display tear down has been mostly halted. Mother Nature bit real hard with all the snow, wind and rain. We had some landscape damage, a Blooming Cherry Tree out on 236th Ave, and one of our Cedar Trees right out the back slider were damaged with the weather. We will see how they survive in the spring. I was out of town on a business trip this week, and then the house fix it stuff and a new furniture addition eat into this weekend. Tracy ordered a new entertainment unit for the upstairs Great Room. I had to get a friend and some relatives to help me pick it up and get it moved upstairs. This thing is huge. 4 pieces, 2 of which were close to 250 pounds each. Trying to maneuver it all upstairs was no easy feat, then we had to get it set up. This thing came packed like you would not believe. So I had a trailer full of cardboard, styrofoam, and wood. WAY too much for the garbage. Casey our Handyman also finished the Laundry Room on Saturday, so there was a bunch of stuff there to get rid of as well. So I took a load to the dump. Today, I had to get the Laundry Room sink squared away, get the washer/dryer back in and hooked up, then Tracy wanted me to make a Costco run. Needless to say the sink had it's problems, but I finally got it all squared away with no leaks, and, I got some laundry going as well, since the washer/dryer has been disconnected for almost 2 weeks! So if you have not deduced from all this, no work was done on the display tear down this weekend. I have a few night this week to get a few things done, then next weekend, Superbowl weekend, Tracy and I will be in L.A. visiting my Mom. We leave Thursday. I have to get her taxes stuff done, and we will just visit with her. Everyone is looking forward to the trip. Soooo, this year will be a late tear down. Fortunately, we don't go to Mazatlan for our Winter vacation until the first part of March. There is at least 5-6 solid days of work to get the rest of the stuff down and put away. I had to put in an LED light order, and was working on the new RGB Tree stuff, but all that is temporarily halted since there is a lot going on at the moment. Oh yeah, we had a very late Thank You note from one of our visitors. One of the buses that showed up from what I gathered by the written note. They also included a $50 check toward SOWA! So that brings our 2011 season total to $6060! I just mailed it off to SOWA today. I love getting those Thank You notes from our visitors. Well that is all for now. Check back in a few weeks to see what other updates I have for you all.


1-19-12 - WOW! Snowmagedden! The Seattle area is getting pelted with severe winter weather. Snow, ice, wind, all not good on their own, let alone TOGETHER! We lost power last night for 5 hours, only to find out that our generator is non-functional. The engine fires up, but no AC power. I had a little 2250W backup, but I just loaned it to my stepson Cameron on Tuesday in case HE lost power at his new home in Duvall. Well funny how those things work out. I was not going to drive out there unless I HAD to. So fortunately, my neighbor had a 2000W camper generator that he let me use to keep the fridges and a light or 2 powered. We will have more outages before this is over for sure. We had an ice storm this morning, and wind is on the docket for Saturday. The temp is staying below freezing, so none of this is going away soon, or soon enough! I did HAVE to get 2 vignettes from the display out of the yard that have the potential to be damaged in the snow, ice and wind. They are now drying in the garage. I need to spend some time this evening putting some stuff away to clear out the garage a bit. Tracy in NOT happy that her baby is parked in the driveway getting all buried in snow. My only concern is the Mega Tree. It is a PVC frame. I was able to reduce as much weight as possible off the top by removing the strobes, Mega Star, and Mega Balls. Now I just have to keep the snow off the top and lights. That helps with any wind we may get. So Tear Down is stalled for now. I can probably get porch stuff taken down, but have too many other issues to deal with at the moment. So Mom Nature is making up for that WONDERFUL December she gave us. I am almost finished with the 2011 picture edits and they should be posted tonight if I have a chance, and don't lose power!


1-15-12 - OK so time to take the New Year picture off the Front Page of the site. I have for the first time had something stolen from the display. My Christmas Street sign. Along with that, they took a "This Property is under video surveillance" sign as well. Pretty trivial overall, but one has a tendency to read more into this, especially with our one or 2 problem neighbors back behind us. I will let the Junior High and Grade School kids know (both bus stops are at our house) that there is a reward if someone can recover the signs and let me know who took them. I will ensure the right attention gets brought to this matter. I hope this subtly lets them know that I will not tolerate vandalism or theft. So we got SNOW! yesterday and today. The Tear Down is in progress, not going fast, and now with the weather it will be hindered as well. Plus, we are starting to do a Laundry Room remodel. Which means that I have some things to focus on with that effort, even though we have Casey doing the actual work, I will still have to do the trim painting. I almost have my numbers for my LED light order. It will be mainly only Warm White LEDs to accomodate the new Chase Trees that will be in the yard next year. I am still looking into RGB hardware a bit and making some inquiries on Pixel strings, but a lot won't happen on that until I get the display down and away. One more load to go under the house and all the stuff that goes there will be put away. The yard is slowly looking bare.


1-11-12 - This time of year, right after the Holiday's, it is nice to relax a bit, and I do. Some are hell bent on getting their displays down. While I do want to get it down, basically from Oct 1st, it was a 3 month sprint to set up the display, get it updated on the computer, lit up, executed and then shut off. There is literally almost not a down moment I get in 90 days. So I take it somewhat easy the first few days of the New Year. I watch the College Bowl games, I finish up what I have to on the inside of the house, and I do get kicking a bit on the outside display. This past weekend, I got a fair amount done. The control, communications, and theatrical lighting came out of the yard on Saturday dried and put away. I got the tough half of the roof done Sunday, and the rest of the controllers and communications that were up there. So far this week, the blow molds, and wood cutouts came out of the yard, except Sally, the Peanuts Nativity Angel is still on her pole. She will come down next. All that has to be put away, then we start the get the next items out of the yard and into the garage to dry. While it may not sound like it, I have taken it pretty easy, plus, I am also back at work, and starting to get things planned and moving there. Planning has already started on the display for next year. I really, really want to do an RGB Tree. I will either replace one tree, or add a 4th, I am not sure yet. An RGB Tree takes the regular mini lights and replaces them with individually programmable light pixels So think about 1600 individual lights on a tree that I can control. Something on this scale would allow me to run words or even put pictures or video on the tree. I have been looking at this technology for 2 years now, and started to get some in this year with the new RGB Balls in the Spiral and Mega Trees. I realized one of my light vendors moved their order date UP to Jan 20th this year instead of in February. So that means that I have to figure out what I need. This accounts for replenishing spares, to the new display items I want to add. I need to carve out some time this weekend to see where I am at for this effort. While the timing sucks, it is the cheapest I can get lights all year so this has to be my big order for the year. Tracy and I are having a friend of our neighbors, Bob and Marti across the street, do some handy man stuff around the house. Some of the local Light Crazy Gang, who plans our Christmas Light get together wanted to get our date set, and some planning done as well. So we have finalize that date to be May 12th, and started to rough in a subject matter agenda. It should be a great meeting, it always is. March 1st marks 15 years in our house. While the stuff being done, I can do, there is a time factor that I don't always have. So some window sills on the south side of the house are being replaced, some interior doors worked on so they close properly, the front door is being fixed and I will repaint. Then the big overhaul is the laundry room. Tracy wants to put stone on the floor over the linoleum we originally put in, a new granite counter top to match, and a fresh coat of paint on those walls. I will replace and repaint the molding, and repaint the new sills. Some of the doors upstairs need sanding and repainting as well. Outside the yard badly needs a renovation, so I am looking into how best to handle that. The top soil has all compacted, and we have some very soggy parts of the yard. We could put some drainage in to assist with that in some areas, but I need to put sand down everywhere Then there is our family vacation in March I get to look forward to. So, WOW!, this started out to be a quick update. Looks like a lot to report in the past week eh? Thanks for checking in. Oh and one more thing. Tracy and I will be heading to my Mom's in L.A. for Superbowl weekend. We want to spend some time with her, and I have to get her taxes done for the year. Happy New Year! We're off and running.


1-4-12 - Well, "Woodinville Wonderland Inside" to coin a famous phrase, is almost all down. Tracy went at it yesterday. The only significant remnant is the famous "Inside Tree". Tracy wants to keep that up a few more days to enjoy it, and it helps with my picture effort outside. I started to get some pictures last night, but true to form, and the norm for this time of year, Mom Nature wanted to "rain on my parade". It poured, and we had some gusty winds to boot. It finally let up about 9pm enough to get out for about 45 minutes. I got some pictures of our neighbors and our display. I like the effects of the HDR Photography technique. The software I have allows me to select pre-defined looks, or I can tweak them myself. So to continue to get more pictures, I need to fix a few things outside, and will hope the weather stays clears enough to capture all my pictures tonight. That means I will be hauling the BIG ladder around to get some good angles on the display. I also modified my photo sequence to get some contrasting elements in the pictures as well. Tear Down commences right after I get the photos done that I need. First up will be to disconnect power in the yard, remove the temporary "Santa Power", my 80amp sub panel. Then get the hardware/controllers out of the yard. I stopped by Mclendon's to get a large box fan for the garage to circulate the air to assist with drying everything. To manage my display efforts, I have 2 computers that are used. The large desk side, what is called the Light Master, and the laptop that is called the Show Master are getting cleaned up, backed up, and updated as well. During the season, ALL updates get turned off so as to preserve the "Show" environment. Once things get dialed in for the display season, I want as little that can go wrong in the picture. So now they are in need of some attention to keep them humming. It is also part of my end of year, closing out of 2011 and getting ready for 2012. That's all for now, keep checking back.


1-1-12 - Closing Night. WOW! 2011 was a fabulous season, and Closing Night is always one of the most mixed emotion days of the year. So much goes into 4 weeks of effort. Those 4 weeks are cherished and exhausting. Mom Nature gave us the most incredible viewing season we have ever had. Our visitation was way up. The warmth, support, accolades, expressions of gratitude were just overwhelming at times, but always appreciated and gives us inspiration. Our donations to SOWA and the Northshore Wranglers was OUTSTANDING. We can't thanks everyone enough for supporting that effort. Tonight we were quite busy for the last night of the display, and to accommodate some new friends, I actually extended the shut down to almost 9:45pm, but alas, the end always has to come. I was able to do a walk around to get some notes on what worked well and what didn't. I had a visit by one of my close buddies and fellow Light Crazy, Kevin (Wirekat) Thomas, as well as Sharon and Dallas Graham of Garden D'Lights in Bellevue. There are no real plans for tomorrow except pictures. I am also back to work as well! I had our New Years Holiday last week. As much as I always kid myself about video, I think I won't even attempt to get that this year. Pictures for the website will be sufficient, as I am going to try to use the HDR photography technique, so we will see how they turn out. I have ideas and plans swimming around my head for next year already, and will have to spend some time "penning" them into my notes and see how they will affect a LED light order that always has to be submitted by the end of February. Tear Down will start as soon as I feel the pictures are sufficient, and needless to say, by this coming weekend we will be fully immersed in getting things down as quickly as we can. Just a quick update, check back and I will provide some additional thoughts and insights.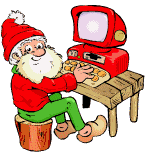 Copyright - 2013 Woodinville Wonderland