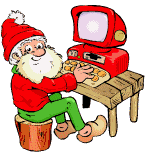 Copyright - 2014 Woodinville Wonderland



1-13-15 - Happy New Year! When I looked and saw nothing since Christmas, I figured I should take a few minutes and provide an update. The Season for us came to a close officially on the 4th. However, we did have an Encore! Thursday the 8th, and pictures were took on Friday the 9th. Saturday the 10th, 4 of our Special Elves came over to strike the Display. We have 2 days under our belt, and quite a bit down. There is a lot still out there, but 2 more weekends should do the trick. Upon looking back, I realize that I did not go much into detail of the "accident". Not that I want to provide gory details (as there are some), for those who may only touch this site, you were left in the dark. In the fall I took, I essentially fell about 9ft to the concrete in one of the highest traffic areas on our property. Right outside the side garage door, in front of all our garbage, recycle and yard waste bins, is where I landed. My left wrist had a major compound fracture, where my Ulna bone punctured the skin, severed an artery, ligaments, and muscle. In all the damage (I essentially pulverized my wrist). Where bone once was, nothing existed. The only bright spot in an otherwise tragic accident, is that the 2 nerves in your hand, were amazingly in tact, albeit pissed off from all the trauma. I spent 5 hours in surgery where my ace orthopedic surgeon, Dr. John attempted to piece the jig saw puzzle together that I gave him. Today, just about 7 weeks later, I can tell you he pulled off something short of miraculous. He had never in his career seen a wrist damaged like mine. I have a LOT of hardware now in my wrist. Plates, rods, screws. Dr. John then turned me over to his hand picked Therapist, Kristen. This duo, worked like hand in glove together on a plan so I could have function out of devastation. Both at points in the Season, brought out their respective families to witness what they could only see in their minds eye from my descriptions. They came, they saw, they understood, and got "it". I was in therapy 2 times a week since I got out of the hospital. I saw Beck at just about every therapy visit (even outside my appts with him). I will owe life to them. As of yesterday, I am in my 5th apparatus on my left arm. Only one week was I in a full cast. They were aggressive on therapy, but cautious at the same time. I now have a brace to wear outside of the house. I spend 30 minutes or so 2 times a day in our hot tub doing work on things. Progress to date is ahead of where they thought I would be months from now. There is a LONG way to go yet. Feeling has not fully returned to thumb, index and middle fingers. Scar tissue prevents me from making a fist normally. I can get close only after working one of my 5-7 sessions a day on my wrist, hand and fingers. A LONG way to go. OK enough about me. December was a blur, literally. I thank one of my best friends, Bruce Lobree for pitching a hand on Christmas Eve. One of our busiest nights, and one I had and can get no volunteers. It rained, and was cold, which worked in our favor, as by 9:30 the crowds were thin enough we both called it a night. Our RGB Tree failed for the second year, although after about a week I disguised it and it looked great. Ice Zee never made it out of the garage, much to Tracy chagrin. With all that was bad of the Season, then, after 3 hours working on a "Picture Sequence" so I could get some great shots of our huge success for the year, the Icicle Tree, the sequence turned out to be corrupt. Never fails. We got some pictures, and will work to pick the best ones to post, but alas. The Icicle Tree was better seen live for sure. It was marvelous. The Display had its weak points, a few gremlins, and typical light failures, but all in all, it was one of our best Displays to date. The yard juggle, the new additions, the Icicle Tree vignette, the East yard vignette, all turned out great. No one noticed the little flaws. I have 8 months to get my wrist to a point here I can start Set Up! in October. There will need to be a lot of work fixing things. I have a light order that has to be turned in, in 3 days. I need to take it easy and heal. Work, family, health. I am going to have to adjust priorities this year, and stick to it. Sorry for the length of he post, I could go on, and on, but the hot tub awaits for my night session. Bless you for getting to this point.

12-25-14 - Wow is all I can say. Today is Christmas. Merry Christmas! For me the past month has been a whirlwind, and needless to say, not a normal Season. I have so mush to be thankful for, and am blessed. Emotionally I have been all over the map. The joy of Christmas, my Aunt Marie here with us, has been awesome spending time with her. She is so much fun, and while not my Mom, she is the next best thing. We are so glad she wanted to come to Seattle, and has been a great help around the house and the Display. She has been my other hand counting the donation proceeds. With my wrist, I have appointments 2x a week for therapy. My medical team, Surgeon & Physical Therapist, are outstanding. The 3 of us meet a lot, talk about my progress, and plan where this has to go. Only time will tell. Both have brought their families out to see the display, so they now fully understand what THEY are up against. The month has been strange. Mild weather, but oh, so wet. Christmas Eve it poured. One of my best buds, Bruce Lobree is a saint. He has come out on my busiest of nights, last night included. Love that guy. Conner Gracia has pitched in as well. I am really thinking my schedule strategy moving forward. I need more volunteers, no doubt about that. I am going to enjoy the rest of the day, we have dinner with Tracy's family later this afternoon. Thank you all for your love and support and putting up with my eclectic & random thoughts.


12-13-14 - The Season is well underway. Our Special Elf helpers have been out several times to keep us looking good. The wind storm we had this past week, we actually survived it pretty well. Our Harley Gang, Ma & Pa Santa tipped over from their respective roof ridges and needed to be up-righted. During the storm, our lights blinked off twice for a few seconds. We never lost power till the next day, but only for an hour. The area around us did not fare so well. Trees, power poles/lines were down all over. Wind storms are my biggest Seasonal worry, as you can never predict Mom Natures fury. We had a bit of a snafu with our Woodinville High volunteers, and last night being our first busy night, we had one. I think we have a workable solution because I am not supposed to be exerting myself much to help the wrist heal. So less time outside! Argh..... Thankfully a neighbor from Timbercrest Jr High wants volunteer hours and we are seeing if others want to help fill in. With the late start to our Season, our donation totals are lower than we should be. I can't sort or count, so Tracy gets that task now. Last night, we had 5th graders from Emily Dickinson Elementary come out to sell Hot Cocoa, cookies and goodies. It was a great time having them sing Carols and peddle their goodies all for our charities. My aunt Marie is out from Nova Scotia, Canada for the Holiday, and we are ecstatic that she wanted to do this. So we are enjoying our time with her for sure!


12-8-14 - Man, it seems like a LONG time has gone by since that fateful morning of the fall. I am exhausted, and need some rest, That will make Tracy and my medical team happy. We had our dress rehearsal last night, and there are no show stoppers. So tonight we open it up officially for the season. I had a very emotional few minutes last night, when "Angels Among Us" came on. I was in my Home Office listening to the little radio I have there to monitor things. I broke down and realized just how blessed I am. I have some things to work on today, so more of an update will be coming.


12-3-14 - Well, what Tracy deems as her worse nightmare, came true just before Thanksgiving. After a late night of "fixit", on Ice Zee, and after a wind storm knocked Sally of the Peanuts Nativity off her back mount, I went to the roof to fetch her mount, and long story short, I fell stepping from roof to ladder. 4 days in the hospital put us hugely behind. There are a few links on the Facebook page articles, and t.v. spots from that article. Not a stellar way for promotion. This update is typing one handed so it will be short. Bottom line, there were a few guardian angels looking over me, otherwise I might not be in condition to post. Since I got home on Saturday afternoon, there has been what I deemed Team Woodinville Wonderland. Many, friends, fellow decorators, neighbors, etc... pitching in to ensure we have a display this year. I am humbled by the love and support, and un-selfish giving. Once I have more time, I will post more notes.

11-21-15 - Coming up on the end of our third day of vacation and Set Up! A lot of great progress has happened, but as the song goes, "I've got a long way to go and a short time to get there" ring true. I have come in from outside or the garage no earlier than 10pm on the past 3 nights. Tracy keeps looking at the yard and saying "it looks great, you're almost done"......... I say NOT! There is sooo much detail that goes into the Display Set Up! Testing, fixing, building, modifying etc... While the yard layout and most of the detail is done, there are still a few big project items to be worked on. I kept telling myself I should do the Procrastination Tree (Road Hedge Tree) while Mom Nature gave us cold and dry weather. True to form, procrastinating on it, Mom Nature said, "fooey on you" and we have rain for the next several days. Today is a garage day with some trips outside. Tomorrow is a short day as Tracy, I and some other great friends and decorating buddies make our annual Trans Siberian Orchestra (TSO) trek to Seattle to see this powerhouse Christmas Rock Opera. We all look forward to this activity. It always falls right in the middle of my big push, so I leverage it as a motivator. They yard layout does look great and flows well, some neat subtle sub vignettes have popped up due to the new new look. 9 days till planned Light Up! on Dec 1st and we are holding hope we can make it on Nov 30th. Check back.


11-17-14 - OK finally a regular update, or I should say more timely. A pretty good weekend overall. As posted on Facebook, the East Yard, that has now become the North Pole vignette is pretty much done. It was finalized and buttoned up over the weekend. This side of the property has grown over the past 3 Season's and this years marks when some regular items from the Main Display snuck over to complete things. What I call the Tree Within the Tree, it has 4 Trees, R-G-B-W and they are tall to short. This and its accompanying Leaping Light Arches are now located here. Below are the pictures I posted on Facebook, and will be the last pictures of the Display we will post so as not to give all the surprise away! The Display Layout is set and locked. Some fill in need to happen, but all the main anchor points are set. My helper Conner Gracia and Tracy pitched in on Sunday for input and suggestions. Tracy had not seen all the updates by walking around, and the 3 of us with Hot Cider in the early morning did just that. We looked and looked, and adjusted some item placement. Tracy loved some of the new layout, then whipped out a great new change herself. She gave me a great idea I had not really thought of. So naturally it happened. Problem is, now I have to absolutely re-string the wireframe deer that have not been in the display in 2 Seasons! I meant to convert them to LEDs, and I need them now to complete a part of the yard. All this is Tracy's doing. Last night I was able to get 2 of will now be 6 deer re-strung. Conner knocked out a decent punch list for me yesterday while I got back on the roof. That is so far behind at the moment. There have been other things to focus on, plus with the frigid temps, getting up there is right now only for afternoon time because of the frost. The computer work needs finalizing, and I can see I will be making adjustments to things even after Light Up! So things will be what they are to start with. I am going to try like heck to Light Up! on the 30th. I am officially off tomorrow from work all the way until the 1st. Although I can already see work commitments creeping into the mix........... This is the time of year when I wish I was able to slow time down. To start our 2nd decade of growing the Display, we wanted to really mix things up and, well, I think once you see the joint, I hope you agree. Keep checking back.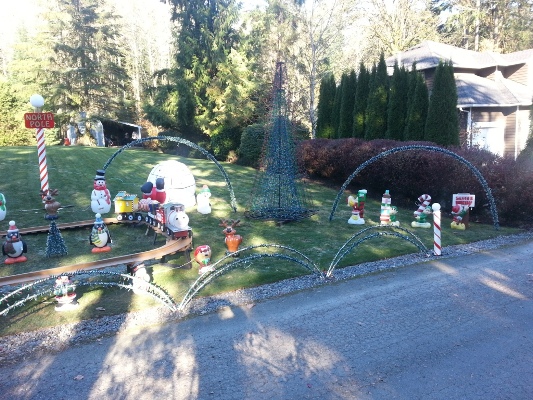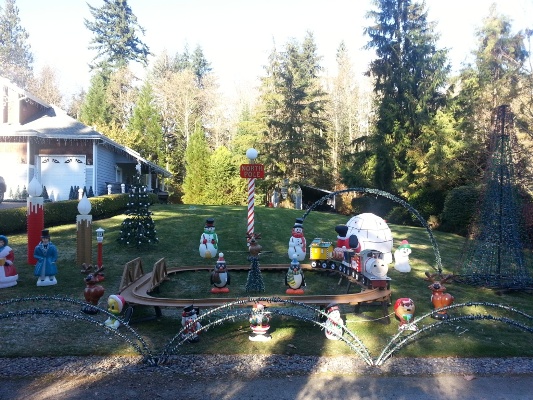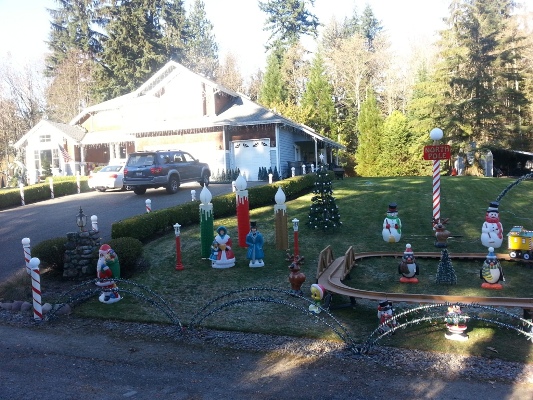 11-10-14 - In the past week and a half, Mom Nature has given us 2 wind storms very close together. Normally they are spaced out by a few weeks. The good part of that, is that they helped to knock the majority of the leaves off the perimeter trees that litter the yard with leaves (that were very late falling this year). This time of year, many hours are spent, cleaning the yard, literally. The lawn needs mowing still, the leave need to be cleaned up, but the biggest headache is the cedar droppings. They do not mow up very easily, and need to be raked up. The center planter island is the biggest culprit with droppings, as it has to be blown out to the lawn, then tended to. I hosed myself this season and applied the winter fertilizer a bit too late. I attempted to use this to assist with the moles I have in the yard, and get the lawn ready for the Spring. All this did, along with the warmer than seasonal weather is to keep the lawn growing. (Slap on forehead). It is cut down to the "Winter" height, but still, it wants to grow. Oh well. We did however, start to pull stuff out of hiding, and as much as possible, started to put items in the yard. The new Icicle Tree is up in all its grandeur. It was a bit more prep than I anticipated, getting the light strings to attach easily to the tier hoops. I had to create what I call Super Strings. As most of our display is, the Icicle Tree is all LEDs. LED icicle lights are nowhere near as dense as incandescent, such as on the house. These strings only come with 70 LEDs. So first each color has to be doubled up, to give me 140 lights. THEN, I have to take a Red, Green, Blue and White string, and zip tie them together, keeping the entire assembly managed, and try to straighten and organize the down drops. Not an easy task. Tracy helped me with the first 3 strings you see in the setup picture below, but I had a lot to make over several hours/days. So below is what I came up with, using our Yard Waste bin (full of course with lawn, leave and cedar droppings), and a bungee cord for tension. After the first big wind storm, I set up the Icicle Tree (after a BIG yard cleaning) as you see below. Pete, my next door neighbor and Display Conscious, kept telling me last year to "put more trees in the west yard!" So, I try to take Tracy's and the neighbors input and incorporate them. It helps as you can imagine. So Viola! We have a big change in the side yard, there will be 18 total Trees as the Spiral Tree will replace where the Light Fan usually went in the yard. The computer work is progressing, it should have been mostly if not all done by now, but, hey, it's been one of those hectic years that things are what they are. With the past several days, the yard is getting more and more populated, and I will take extra time off this year to get things finalized and set since it has been such a hectic year for us. Lastly, we are keeping our eye on the weather report with the call for frigid temps to hit our area tonight and tomorrow. I need to get the hoses and hose bibs all squared away. From here on out, it is a sprint to Dec 1st. Keep checking back for updates!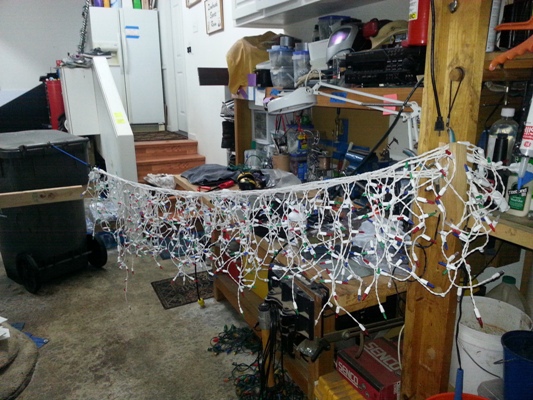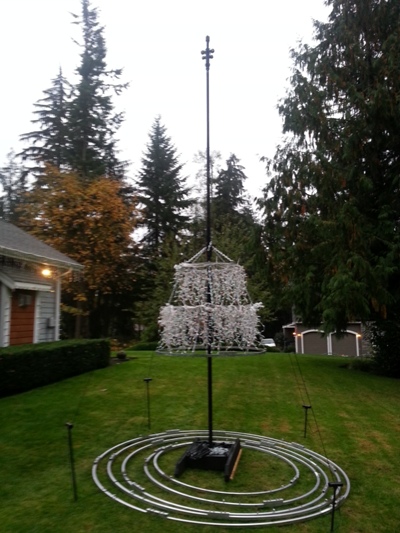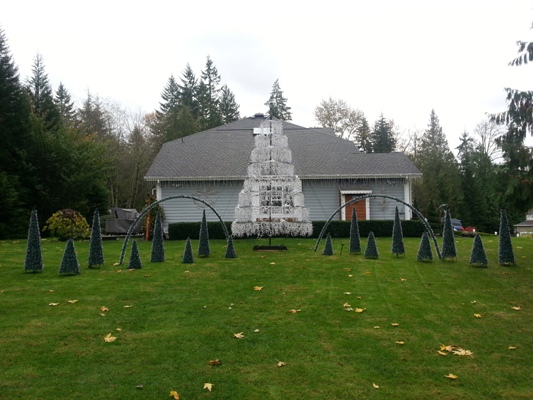 10-30-14 - The day before the scariest night of the year (besides my 4 busiest display nights of the Season!), Halloween. I have been overwhelmed with work and other items that have been a a bit of a distraction from the Display. That has been a bit concerning, but I hope to start getting on track as of this weekend. I found myself gone for 6 days to just outside Boston for some work training. Not unusual to travel this time of year, but I had not had to do so in several. It was a required trip, but it afforded me the opportunity to do one more thing for my Mom and Dad. If you have been following, when Mom passed 2 years ago, we co-mingled their ashes and instead of leaving them in one place, me and my siblings have been laying them to rest in the places they loved, and where they were born. Dad was from just outside Boston. So they were taken to Lawrence, MA to the house he was born and raised it, plus my grand parents are buried in a historic cemetery there. They were laid to rest in both spots. Tracy and I took Mom to Nova Scotia this past summer. We visited my Aunt Marie and had a great time. I just got great news that my Aunt Marie wants to make another trip to Seattle at Christmas! We are excited about that news. OK the display. Well the yard is getting there. There is still a lot of leaves in the trees. We normally have had 2 good wind storms by now, but to date, we only had one, and that was last weekend. We did not lose power surprisingly, but we did not lose all the leaves either. I spent most of Sunday cleaning up. The lawn is now at its winter height, and needs to slow down a bit more. I did myself no favors by fertilizing it a bit late this year. It wants to still grow. Plus we have had an un-seasonably warm Fall. No super cold nights yet. That has not helped with the leaves either! So if you drive by, you will see some familiar features already out, but I am way behind where I normally am this time of year. I hope to start getting caught up this weekend and will solicit some help from Conner Gracia who has been a great help at times the past 2 years. I will schedule some extra time off work like I did last year and I should be good for a Dec 1st Light Up! Inside computer work has been underway since the beginning of Oct and I am about half way done updating the show songs, announcements, and bits with the new elements and layout. By changing things in the yard each year, I always add more work in this area than most, who just keep their displays the same. I move things around and and promised, there is a big juggle coming this year. I got some Christmas related news last night, and I have to sit on a secret for a few weeks, but I was very jazzed after a call last night! I will say more later. One more item, is that we have quite a few new neighbors in the "hood" this year. I really do try to keep a low profile about the Display. However the neighborhood Facebook page had a very recent thread about things. I always want to be supportive of our neighbors and not be too much of a burden on them during the Season. As we get more turn over each year, it becomes more effort to reach out to the new neighbors and discuss my philosophy about things. Being busier does not help that effort. So depending on how busy I am, I do hope to get more regular Blog updates with my progress. Check back.


9-20-14 - Well the calendar is getting away from me, the air is getting cooler, and the leaves are thinking about turning color. This is the last weekend of Summer, Autumn is coming fast. The dry summer has caused some of the trees to drop leaves already! There was a lot of work done last weekend and this week with the Icicle Tree. The pictures below give you an idea of what it is all about. The pulley assembly, shown in the lower right, was the key. The original unit, went through 3 modifications, and ultimately I scrapped it for the unit show below. What was happening, was as I pulled the rings up the pole, weight and the way I had the cable originally routed was causing problems. The weight was making a pinch point at the pulley on both sides. Then the pole itself was bending, sort of like what happens with a bow and arrow, when you string the bow. I needed to get the cable routed as close to the pole as possible, and allow it to move more easily. Hence I added more pulley blocks. Problem solved. This is by far my most technical element in terms of engineering. It really tasked my brain. The sites Facebook page has a lot more pictures of the evolution, and if you have a hankering to see, go check them out. I am now working on the strings that will go onto the rings. LED icicle lights are no where near as dense as the incandescent strings that outline the house. So I double up the strings and have to zip tie them together. I am almost done with the RGB Pixel strings for the RGB Tree. I had 4 failed strings, and my vendor shorted me one. So hopefully those get shipped this weekend to me. 3 more need to be strung, and then 2 spares. Ice Zee's stage needs some work, I have to get the roof prepped (get rid of all the wasps nests, yuck!) etc... The big push for Set Up! is underway. I am juggling when the official date will be due to calendar commitments. Needless to say, the focus is now the display and getting things finalized and ready to go. I hope to start more regular updates to the Blog as things continue to move and get done. Tick, tick, tick, the clock never stops. Oh yeah, one more thing. Chuck Smith of Planet Christmas, asked if I would write an article for Planet Christmas Magazine. I did so based on some material I presented at Christmas Expo this past Summer. Check out the article, click on this LINK. Thanks for checking in.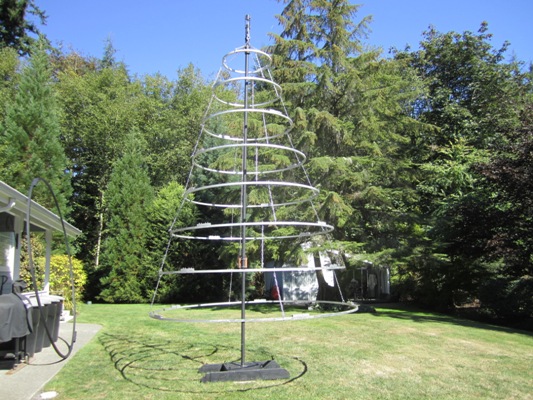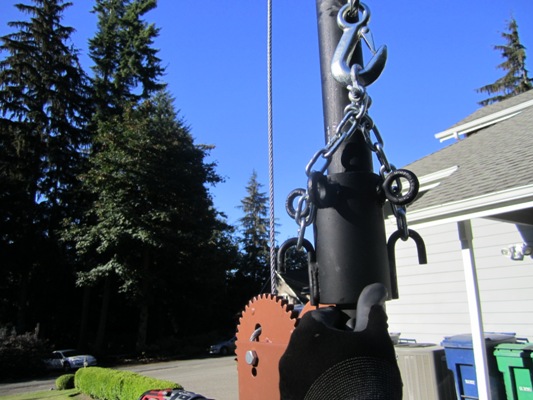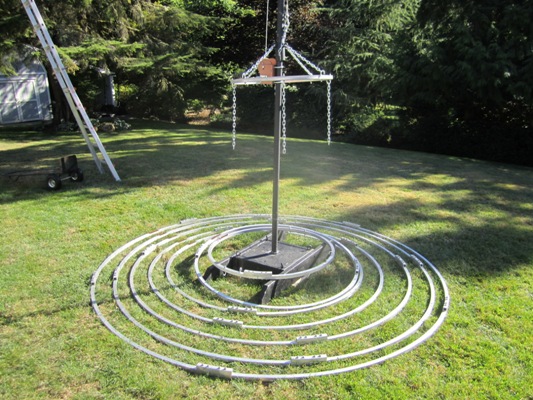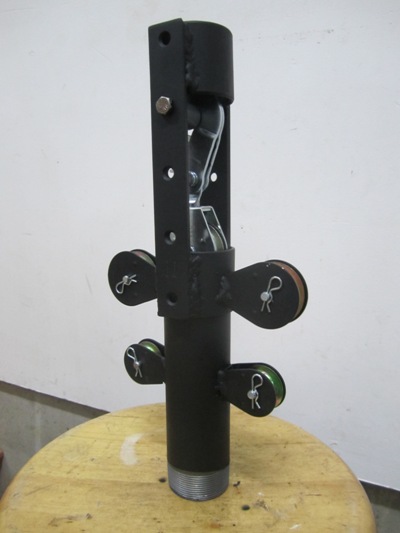 8-27-14 - Coming up on the long Labor Day weekend always gets folks thinking about back to school, Summer is winding down, Fall is quickly coming, and at times, it can be felt in the mornings. It is key transition time for me. While I have split time with family, house, work, and yes the display to some extent, after Labor Day the push starts. It has been a hectic Summer, which for use is not unusual, and I have not had as much time on the Display as I would have wanted. The Facebook page has had a few more updates, so for those who visit the Blog, this will bring you up to date as well with our progress. I have been working on a few Display items over the Summer. The first major project was to re-string the newly revised RGB Pixels onto the polyester banding for the RGB Tree. 56 stringers had to be redone, and I am about 2/3rds of the way home. 43 have been completed, and 13 more to go. Below is pictures of a new jig a buddy of mine (Brandon Whitehead) came up with. I leveraged it, and it did shave time off the each string doing it this way, along with giving my back a break. The pixels are put face down into holes drilled into the 2x4, the polyester band is tightened over top of them, then zip ties are put around the pixels, tightened and cut. All told each string takes me about 18-20 minutes, shaving about 5-6 minutes off from what I did last year. I am praying with these strings, that the RGB Tree is the masterpiece I intended. Thomas the Train, and that entire vignette will have a new look. The tracks needed repainting, and I used high traffic/traction paint. The paint had sand, and I added crushed walnut shells to add more material for traction. The first coat is on the tracks, one more coat will be put on after this one cures, so in about a month. I am sprucing up the Engine with a new coat of paint, and the details will be redone, and the wheels on it, along with all the cars were replaced. With all the efforts to combat the slippage occurring last season, the tires were pretty worn down. There will be 5 new sections of static Road Arches, that will be the newly revised barrier for the East Yard. Those arches were made back in April/May as written previously. Then we have some "hide" paint on a few things. Ice Zee's new stage, the Icicle Tree Base, and the supports for the Train all got painted black to make them less obvious. So the list as it stands right now is to get the RGB Stingers finished. Then work on the icicle strings, (again R-G-B-W) for the new Icicle Tree, and get the center pole, pulley systems in place to put UP the Icicle Tree, then get Ice Zee all set up and ready to rock. At some point the inside work needs to take place, with the logistics and update to all the songs, with hopefully at least one new song in the show. I hope to be able to replace the Red Roof Outline with RGB nodes, but with time slipping by, some things may fall off the plate for this year. That about brings everyone up to speed. Tracy and I will be camping for the long weekend, and then, the real clock starts ticking toward Light Up! Thanks for stopping in to check on things, I hope for more regular updates as we transition our activities.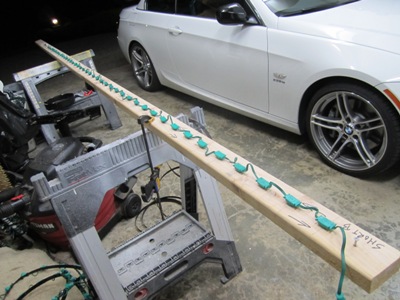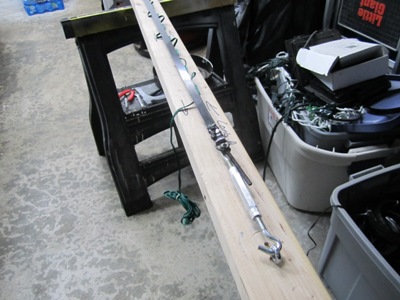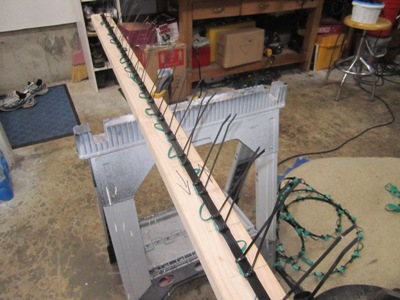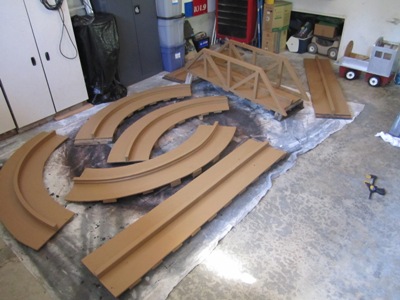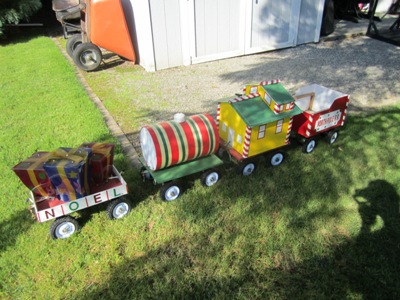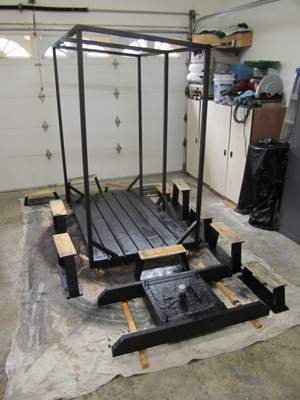 7-28-14 - A lot has transpired in 2 months since my last update. I am just getting back from a 2 week whirlwind vacation. Of which I was limping into that, from 4 months of work travel and activities. One of the busiest stretches I have had in some time. I really needed the vacation for certain. Plus in all that, I had to get finalized and ready for Christmas Expo. The vacation, and Expo went awesome for sure. Tracy and I spent time by ourselves, then with friends in New Orleans. It was our first time there. Then off to Biloxi for Christmas Expo, and a ton of work for the conference. It was a huge success. After that we were off to Cape Breton Island, Nova Scotia to take some of my Mom and Dad's ashes to where my Mom was born and raised, plus visit with family. I had not seen that area of the world in about 37 years. We had a fabulous time. Then spent an overnight in Toronto to visit more family. Whew! In all that, there was some work that was happening on the display, but not a lot. We ordered lights for what is now going to be officially designated as the Icicle Tree, formerly the Wedding Cake Tree, in addition to getting the rings for that tree delivered, assembled and a bit of a mock up done. The base is done, and I still need to work out how I will raise it, but have a good idea on that methodology. I built Ice Zee's new "stage" and it needs painting and then the material to cover him in. Plus, he needs plugging into his controller, measurements worked out, and then to add him into the show! In the next day or so, I need to sit down and really plan out my new additions and lock it in. I have a LOT to do, maybe more than I realistically have time for due to the last 4 months of work and Expo effort. Facebook got a few updates and pictures, so to save time on this post, and website push (to publish my Christmas Expo material) I will keep this short for now and have you go check out the display FB page. More to come in the next week or so. Promise.


6-1-14 - Another update. Seems we are in our typical monthly schedule for Blog updates this time of year. Work has been very demanding on my time for the entire month of May, and June it will only accelerate. I am gone on business almost the entire month of June. We executed another very successful C.L.A.P. local Christmas gathering on May 3rd. We had about 45 folks attend, and a great time was has by all. More Honey-Do's, around the house captured most of my "spare" time. Christmas Expo planning is picking up, and boy, I have been wore out and wore thin of late for sure! We had the front doors to our house replaced, and I spent the entire Memorial Day Weekend prepping and painting the inside of the entry, and the front living room wainscoting on the wall. The doors still need to be finished, prepped and painted from the outside, and that is what I tried to get done this weekend, or at least to the point where I can get them done possibly next weekend. THEN! I will be done with the Honey-Do's for this year. I wanted to get some yard work completed, but the calendar is flying by. My battle with the Moles in the yard has gone well. I have trapped 3 so far this Spring. Good for me. I usually have better luck later in summer. I bought some new style traps that seem to be working very well. Hopefully after next weekend, the focus can then be on the display. Some planning has been done, I finished the 4 small Leaping Light Arches, and the 10 new Road Arches. The Wedding Cake Tree I am having the rings fabbed for me instead of making them myself. I am about ready to order new pixels to replace and make the pixel light strings for the RGB Tree. I then will have to make 50+ stringers again, arghhhhh! A quick post to catch anyone up checking. I hope to update more as I get moving on the display items.


4-26-14 - Ahhh, Springtime in the Pacific Northwest, almost no better time other than Christmas! The yard starts to bloom, the lawn starts to grow, the birds are singing, rabbits playing and the gosh DANG moles are still hangin' around. On Facebook I have the Mick and Moles game being described in play by play, ala, Baseball style. With what they do to my yard, I guess you got to have some fun, right. Everyone comments on how great the yard looks this time of year, but in reality, if you walk out there (or mow in my case), you see and feel all the damage they have done. Dips, divots, indentations, undulations etc... I need to really do some filling in and leveling at some point. The Honey-Do list grows ever longer too. We replaced the front entry doors and now they need patching, priming and painting along with the jam on both sides. One of the yard arbors needed a bit of a refresh, so I pulled it out of the ground, refinished it and got it back in place. All that while Tracy was in Mexico, enjoying fun in the sun with a girlfriend at our timeshare in Mazatlan! What's the saying "while the cats away, the mice will, work, work, work!!??" LOL. Most of the pre-season buying things is done, with one exception that has to be ordered in the next day or so. Those are R-G-B-W LED icicle Lights for what may be the new Wedding Cake Tree. I need to make some concentric rings, 7 and then suspend them. Should be a good look. Our local Christmas gathering, C.L.A.P. is next Saturday. Most everything is done from a planning perspective, we just have to execute, enjoy the day, talk about Christmas Lights and relax a bit. After that, then comes Christmas Expo, the national meeting. I am working on getting stuff ready for that event too. And then there is Christmas. I have been testing new pixels for the new RGB Tree. I have to order those still, but no matter what, those will be the same price no matter when I order them. I have been in the process of making 4 mini Leaping Light Arches, (LLAs). With the yard re-design, all the "trees", or most of them will go into the side yard and out from under the full sized LLAs. So these smaller ones will be located under the big ones. There is a system I have to help me put lights on the LLA, as you can see from the pictures below. A buddy of mine came up with this jig set up, Lowell Fuher, and while it does not get used often, it is great for when I need it. In the pic, you can see a foot switch at the end of the red extension cord. I power the drill to turn the PVC pipe and I feed the lights. It still takes me a little over an hour to do one stick but it is much easier this way. I will also be making 5 more sections of the Road Arches to make a barrier for the East Yard and keeping visitors from getting at the Train. I will use this jig to help me make those as well. I also have been fixing things. The smaller multi color trees, what I call Mini and Midi Trees have what I call LED Super strings. Basically 4 strings of each color, R-G-B-W, and they are zip tied together, and strung on the frame. When an LED string goes out, I have to take the one section off the frame, cut the lights apart, remove the faulty string, lay a new string in place, re-zip tie, then rehang on the frame. Not trivial. I have 8 Midi and Mini Trees like this. 7 needed strings replaced, and a few of those needed multiple strings replaced. I had to order more 100ct Blue M6 LEDs as for some reason, blues want to fail the most. A lot to manage this off season, and we are off and running with what will be the biggest juggle so far of the display. Thanks for stopping by, keep checking back.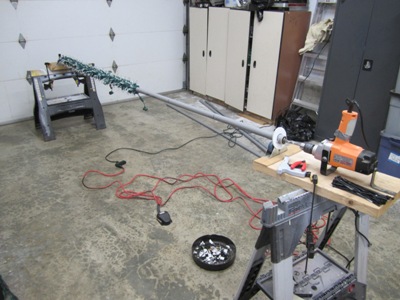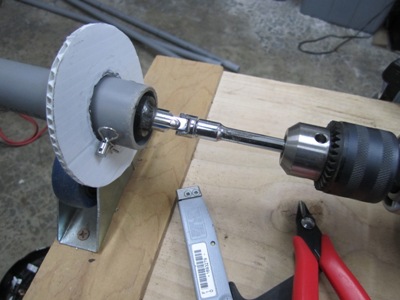 3-26-14 - A few weeks since my last update. Not much on the display front except to say, my eye is still on the 2014 plan. I have one more light order to put in, and I have picked up some used LOR controllers from fellow decorators. I should probably be expanding the use of my Lynx Express kits to add channels, but these come fairly inexpensively, and they are very reliable units. Most of my time of late has been consumed with Christmas Expo planning, our local C.L.A.P. get together, work, and the Honey-do's are already piling up after the winter. Christmas Expo has gone surprisingly well from a planning perspective. We have assembled one of best curriculums I have ever seen. I have 2 classes I will present. Fortunately most of the work is done on them, and I just need to do a bit more work on the Decorating 101 subject. This will be the "freebie" track for anyone to attend, hopefully enticing them to sign up for Expo and see the rest of our subject matter. Our C.L.A.P. meeting is rounding out nicely. Most of our traditional vendors will be supporting us again. Our local agenda is once again, top notch. I will do a dry run of my "Art and Presentation of a Christmas Display: The Holy Grail to get some practice in for Expo. Final planning will start in a week for this May 3rd event. Then comes the yard. I have a lot of tailoring to do to the lawn as the moles have wrecked havoc, and there is dips, divots, indentations etc... that make it difficult to walk, mow and most importantly, decorate on! Tracy will be heading of to Mexico with one of her girlfriends, and one of my best buddies, Tom Lieb will be coming up to Seattle to have some fun play time. I just got back from a whirlwind Asia trip for work. I visited Shanghai, Penang/Kulim, and Singapore. There was a few hours squeezed in there to get some down time and sight seeing, but the trip was brutal on the body, as we did that in 10 days. I got home this past Sunday, and my body is just now getting back in our time zone. Now, on the display, I have to order LED icicle strings for a new tree in 2014. I am going to create a smaller version of the Mega Tree that Ron Lister (Christmas Wonders) has created. This will be the 3rd item I have "borrowed" from Ron. I have had to fix some of the LED Super Strings on my Mini and Midi Trees. I have about half fixed, then they can be put away . I have a BIG list of mods and changes I am tracking for next season, and will start juggling fixing the remaining items, working on the new features, and keeping Tracy happy with the Honey-Do's. Thanks for checking in.


2-18-14 - Well 2 very important dates around our house have come and gone. Valentine's day and Feb 16th, Tracy's Birthday. I had intended to take her over to Chelan to a B&B as her present(s), but with the weather we had, we opted to stay home. Thankfully, as we probably would have gotten stuck over there with the conditions of both passes between the west and east side of the mountains. We postponed our weekend to this coming weekend. Tear Down! is almost a distant memory, but NOT quite. It is about 99.5% done. The Procrastination Tree in front of the house still has most of the lights in it. I have to work on most of that tree by climbing inside it. With the weather as wet as it has been, I can't get up there as the branches are very slippery when wet. Like the rest of the country, we have been getting hammered with rain in the past 2 weeks, plus we did have a good snow that lasted 3 days at our house. The RGB Pixel Tree has all the lights off it, the Topper is down, and most of the stings are on the lawn. I started to clip off the pixel strings from the riser carriers as those will be put into my failure bags and donated to Bellevue Botanical Gardens, Garden D'Lights. Remember the pixels were a miserable failure this year :( I have a test string that has been running in the backyard for over 6 straight weeks, so there is promise for the coming season with a new pixel for sure. That tree will finally be the masterpiece I have been planning for years! The last of the 3+ miles of extension cords required to power and connect the display are out of the yard and drying. They will get put away tonight, and then Tracy should be able to get her car back into the garage. The entire yard needs a LOT of work in the offseason, as Mick and the Moles have really wreaked a lot of havoc in it. There is all sorts of dents and divots in the lawn that need smoothing out. As soon as the Pixel Tree gets moved out, the work can begin! Planning for Christmas Expo and our local C.L.A.P mtg is well underway. Expo has had a lot of work done so far to the education tracks. I am really looking forward to this meeting, as it should be a lot of fun. This will be a very busy off season with all the modifications and work that needs to be done to overhaul the display, the items that need fixing and attention, plus all the Honey-Do's! around the house/yard that are backing up too. The 2014 Christmas Light Fight show approached me once again to consider doing this. I hate to keep saying no, but there is no way I can comply with their requirements. That's all for now, I just wanted to post an update. Thanks for checking in!


1-29-30 - It has been a few weeks since my update and a in some ways not much has happened, and in others, lot has gone on. I attempt to not sweat and stress about Tear Down! A display at this level certainly has it's time commitment, and I really try to balance things. So to date, I have not yet spent a full 2 days on a weekend on getting things down and away in January. Normally I have a deadline of a family vacation in mid February to get things completed. That is not happening this year. So I took a day and a half to go to our property in Lake Chelan, visit L.A. for a very special B-Day party for Mike Z of the famed ZTree, and visits to old neighbors and dear friends. I have spent some weeknights working on getting things down, and am about 1/2 done with everything. Super Bowl this weekend will again only give me about 1-1/4 days to focus. With the Seahawk's in the throw's of the championship etc... Sundays have been spent at my Bro-in-laws Man Hut, just literally down the street from us. This place is truly a marvel that rivals my Christmas Display! He has been published in articles and featured on the landing page at one point of MSN.com. I have been approached to be part of an Advisory Team for a national event called Christmas Expo. What started out (in my mind) attempting to be a very light participant, has turned out to be a passion to make this event a success. That coupled with our own local Christmas gathering, C.L.A.P., I have some planning work on my plate. I will be presenting at Christmas Expo material I feel very passionate about, that is geared toward a national audience. More on that later. 2014 planning started even before 2013 was finished. With the difficulties of a new feature, the RGB Tree, I was chomping at the bit. I started planning in my head almost mid-December. Most of that in now on paper, and I am working some key activities to bring it to fruition. I have to have a fairly good sized LED light order that is due in by tomorrow, with already 2 orders in to vendors for other very specific items. More orders are due in the next 2 weeks to get the best pricing available to me. I want to really make a big splash in 2014 as it will be year 11 for us doing a Mega Display. Really, the past 8 years, things have progressed to a certain point, and I want to really juggle things up next Season. So more than usual, I am putting cycles into changes, additions, and the like. The RGB Tree has to have a HUGE overhaul. The product used in 2013 was miserable. So research is being done on what to use in 2014. I want this to be the center piece I have been planning for 3+ years now. Also, Jr, who will be deemed IceZee, will be incorporated into the show as our new Master of Ceremonies. His personality is already being worked on. His new stage is in planning and, he will have a few accompaniments that will be a big hit I believe. All of this and more needs to be re-written into all the scripts, bits and announcements. Fix-it work needs to be done on display items, man I am keyed up about 2014, the most I have been in quite a few years. Late in the Season, the Executive Casting Producer of the 2013 show, Christmas Light Fights, approached me to be in the 2014 show. I very kindly turned them down. A lot of my Facebook fans and guests said I should be in that show. I appreciate the sentiment, really. I knew half the participants in 2013. One of them very well, namely the Simmons's in Cathedral City, CA, a goomba of mine. The requirements are numerous, and for me, prohibitive. I am on one man band, so to speak, and have a huge balancing act already with life, family, work and the display. Plus, I do what I do, out of love for doing it, the joy it provides my family, friends, neighbors, supporters and guests. I have all I need from you all. Thank you though. I do believe I could do well, but have no desire to have to prove it. Tracy and I are really involved in our property in Lake Chelan to build a 2nd home there. Already I have the outline for a Christmas display is in my head for that place. One of the best things, my next door neighbor there, just recently found out about what I do, and is already talking about what we can do between our 2 houses! Gotta love that attitude! So a 2nd display is in our future! Chelan Christmas, or something named as such. Tracy is already rolling her eyes at me. Let's see, what have I left out, oh! our CHARITY! For Special Olympics of WA and the Northshore Wranglers, we came in at a whopping $7574. Woo-Hoo! Our best year to date. My visitors, ROCK! That is what pumps me up. We have done about $34K for our charity in the 7 years we have had collection. THANK YOU!!! We are all about giving back, and with your help and support, we accomplish that. Lastly, pictures! I did take some this season to capture the additions and changes. They should be posted soon in case you did not get by to see us. Well, thank you for reading this. Thank you to those during the Season who mention that you read this. I find it creates a nice outlet for me to pour things out of my brain. Keep checking back, and oh, in case you did not get it, GO HAWKS!


1-6-13 - The display is now closed for the year. It's always a little bitter sweet when I walk in the garage and throw the switch after the last show of the year. We had a wonderful Season, not without it's challenges and those were mostly technical. Our guests continue to amaze me in so many ways. First, just the joy, love, and support they give to us. I get emails, cards, letters, & IM's during the Season, all heaping accolades and thanks. The Thanks truly needs to go to all of you. Friday night, our last night, we had folks here up to and after our closing announcement. They did not want to leave! However, after all cleared out, I then started to pull some things in immediately. The road parking cones, signs, Santa Power panel, Donation Box, and some of the blow molds out on the road or in the display entrance. Saturday was spent getting the electronics out of the yard, and a few other misc items. Saturday afternoon, Tracy and I decided we would head to Lake Chelan and our property over there. It was nice to drive, have dinner in Leavenworth, WA, spend some time with Lindsey, our bro-in-law, then wake up to that beautiful view that we too will have soon, when we start our cabin over there. I spent some time on our property looking at things to get situated so we can start the building process. This year I will split time to manage the Chelan project, and our Display. Tonight, I will have to break the "Tree in the Window" down and put it away, and that will be a wrap for Woodinville Wonderland Inside. Outside will be a process over the next several weekends to pull in, dry and put away. As always, balancing time becomes paramount. Work, Tear Down, and life all needs to be considered. During the next few weeks, I have to decide on a direction to take for next season. While I have been running different scenarios in my head, they have to somewhat take a formal tact as a light order is due by the end of January or mid February. The RGB Tree is already being researched for new a product to light it with. The yard will get a big juggle I think. I have several new items to contemplate, and several from this year that need refining, such as Ice Zee our new MC. So there will be a lot to keep you posted on during the coming year. First up is the planning for our annual C.L.A.P. meeting for the PacNW decorators. I took some pictures on Friday night. Not a lot, but enough to capture the uniqueness of 2013 over other years. They will get worked on this week and posted here and on Facebook. I guess I will sign off for now. Thanks again for taking the time to read these random thoughts, and too, for telling me that you do read these. I appreciate you all for that.


1-1-14 - Happy New Year! I'll update this so that I can go vegetate in front of the tube watching football and relaxing. 2013 is behind us now. It was an interesting year, and not all bad for us. We were just very busy, mainly with work and life. There was one sad note when my nephew passed away unexpectedly, and there is still some family stress, but that will always be the case with families. 2014 should see the start of our cabin at Lake Chelan, which should be exciting. So closure, and new beginnings, isn't that what today is all about? As far as Woodinville Wonderland, we have had an outstanding year, that saw visitation be consistent. There were new Traditions born, and old ones realized. So many smiles, accolades, a few cards and emails expressing thanks for what we do. I could easily have taken 2013, just like 2012, but in the end, I really love sharing our passion with our neighbors and guests. Speaking of neighbors, our Honker, the one neighbor for the past several years who expressed his displeasure with our celebration, was cooperative this year. I did see him drive past and not a sound. Just a hi-beam flash at one car. I can take that. There is some blading of the road shoulder, and some rock that should be brought in to make things less muddy in our parking areas. I should see if my bro-in-law will bring his tractor up to assist. The display has 3 more nights, and like all years, I have a lot of grandiose ideas and plans for next year. As life weaves it's way through that path, we will see what is in store for Woodinville Wonderland for 2014. I have a LED light order to place in the next few weeks. Our donation total surprised the hell out of me. The way visitation was going, I thought we might even come in less than 2012, but as we stand now, purely our cash donations are over $6850 and my company has not kicked in its contribution yet. That exceeds our total from 2012! We have awesome visitors who support our display, and SOWA and the Northshore Wranglers. I am in awe with everyone. No major weather issues this year, and I just hope that Mom Nature gives me just partially what she bared in our Set Up! time. OK time to feed the dogs, get some coffee and relax one more day. Thanks for taking all the time to read my random thoughts.


12-31-13 - The eve of the New Year. As much as children are anxious on Christmas Eve, adults are tonight. The New Year always brings hope of better times, prosperity, health, luck and all the rest. It gives us a time to sit and reflect back on the year. Life is not always easy, most come by the display and see joy, wonder and amazement. Those things make us forget our wooh's for awhile, which is good, that is what I hope to do. Now we are on the cusp of the unknown. Thinking back, the year had it's frustrations, sadness, and difficulties, but in the same breath, it had many good moments too. I am blessed with a family that puts up with me, work that I like, passions that are fun. What else could someone ask for? Thanks to all of you who actually read this Blog. It is not updated as often as it should lately, but I appreciate you taking the time to read it, then when you visit, telling me you do. This is one avenue I have to reflect and share. Thank you. As far as the display, I have a lot of ideas roaming around in my head for next year. I think the yard will get a significant juggle, a few more new things and a lot more attention than in 2013, that is for sure. The planning for our regional C.L.A.P. (Christmas Light Addiction Program) has started. The date is set, updates will go out via email and on the forums. Friday is our last night, Closing Night. Then the Tear Down! begins. Be safe out there tonight.


12-26-13 - The day after Christmas. The Malls will be packed again after a one day reprieve. This is somewhere you will never catch me today. Nah, today, I really try to take another day to relax. Even Christmas Day, as anticipated as it is, and wonderful, still has it's level of commotion. Our family had an outstanding day. We got together with Tracy's family, about 30 of us and had a wonderful time together. Even with out technical flops, we are having a magical season. The visitors have been wide eyed with grins from ear to ear. We go so much unknown attention too. We made KOMO's Parade of Lights weather segment and their choir segment too. Albeit there was a schedule change and we were on the weather Dec 23er at 11pm, instead of what we told our family, friends and Facebook page, Dec 24th at 6pm. Oh well that is show biz as they say. I have already started rummaging around for updates to next seasons display. I think after 10 years, we may just juggle things a lot, so there will need to be some significant planning that needs to be done, to get ready to build the pieces I want. I want to add several songs, and the gang who manages the show for us, Rudy and Elfis will get a makeover too with our new Master of Ceremonies, Ice Zee.


12-22-13 - The big day is almost here. Today is the day before, the day before Christmas Eve! The crowds have been great, somewhat sparse, but I think a lot of that has been weather related and the fact that this is a wierd season, with Thanksgiving falling so late. A Month is a Month, but the display Season seems really short this year, Strange. Our new Master of Ceremonies for 2014 is out in the yard, doing his best "Vanna White" impression, meaning is there looking good, but not doing much. Sorry Vanna.... Anyway, Tracy is disappointed that he is not doing more. With The RGB Tree frustrations, Ice Zee as we will call him, has not had any part in the show. If I get a chance, he may be swaying back and forth to a few songs and watching the crowd. We will see. A lot have asked how long I will be running for the Season, I think that Friday Jan 3rd will be my last night. So if you want your Woodinville Wonderland fix before we pull the plug, come on by. The donations for SOWA and the Northshore Wranglers are doing well. We are at $3704, and I got a feeling it will be busy up through Christmas. Our visitors ROCK! Thanks to everyone who expressed thanks, gratitude, joy, wonder, amazement, accolades, and love for our display. Those truly fuel our fire, and sharing with everyone is what we love to do, sounds sappy, I know, but it is true. I hope you all are getting ready for the big day, Santa is on his way!


12-6-13 - Well we have a few days behind us. The early season visitors almost have an advantage that they can almost get the display to themselves. I do have to say though that with 200 or so people on the street, there is a certain festive feel. Mom Nature has made it BONE cold. The new train needs some assistance to allow it to run, and right now the track is frozen. If it is going to be running this weekend at all, I will need to manually thaw out and dry the track off! I have laid low this week after Monday and fighting the RGB Tree. I may give it a bit more attention today, but it will not get anymore significant time from me, and it will be what it will be. We get Brownie Troops here tonight, Friday and Sunday for Hot Chocolate and cookie sales to provide for our charity. I HOPE the power stays on, as last year, if you remember, we had the power outage with them here. I have a few things to fix today to ensure a decent showing this weekend. Come out and see us. We are looking forward to seeing everyone.


12-1-13 - This was one of the best and worst set up seasons I have had to date. I was ahead of schedule and behind. Mom Nature was a peach with weather, except for tonight Light Up! it is going to rain on our parade. I had been ahead of schedule with the yard and set up, only to lose sooooo much time mucking with one of the new additions. The RGB Tree. Turns out the Chinese vendor I got them from created and manufactured a bad design overall. So the pixels on the tree are in a constant state of failure. I spent way over 40 hours attempting to get the tree functional, and who knows what it will eventually do. I have some punch list stuff to do today after our Dress Rehearsal last night, and buttoning up the RGB Tree is one of those items. I won't know what it will do until tonight. Sorry I have not posted more updates, I have been head down trying to keep moving. I will post some pictures soon, here and on Facebook. The season is here, we will be Light Up! tonight, come by and see us and say hi. We would love to hear from you all. Merry Christmas!


11-15-13 - Well the BIG Push! is here. I am on vacation from now to Dec 2nd to get it all done and lit. I did a few things done tonight, and wrote my To-Do List. I have a good buddy of mine giving up the weekend at his display in Aberdeen to give me a hand for the next 2 days. Ken Collins. I will owe him BIG time after the next 2 days. If things go well. The next few days will tell me how I will do against my schedule. So I may be quiet for a few days on updates. This afternoon, I talked to my High School volunteers for orientation. Always a good time. They are looking forward to helping on my busy nights. So early to bed tonight and up early tomorrow to hit it hard. Mom Nature, please be kind..............


11-3-13 - I started a Blog update yesterday morning after I posted to Facebook, and just as I was about to SAVE all the edits, BOOM, BOOM out go the lights. We had a wild wind storm all day Saturday and power was knocked out for over 16 hours! I had my first wind related issue in many years. Santa Harley was not anchored like he should have been. He crashed and burned down the ridge he rides. He was precariously hanging over the gable gutter, and had to stay like that till this morning when I was able to rescue him. He came through it all amazingly and after he was put back in his cradle and re-secured he fired right up with no light damage, thankfully. So today was totally dedicated to cleaning up the place completely after the storm. What a mess. That was the bad news. There was leaves, cedar droppings, needles, branches etc.... all over the place. It took me 10 hours to clean up what I could an there is still about an hour tomorrow to finish the east yard. However the silver lining is that, most everything is down for the season, the lawn has been mowed and I can start putting stuff in the yard, somewhat earlier than usual. I am beat. A whole weekend lost to weather, but the yard is now ready to start toting stuff out. On Friday before the storm, I pulled stuff out of hiding and staged it for testing before putting out in yard. The Road Arches suffered greatly in storage. I had to replace better than half the green strings to failure. Late Friday and yesterday during the outage, I got a good jump on fixing those items. So we are in it now. Behind on the computer work, but we will have to see how we can juggle time to catch up. I should be posting a bit more hopefully as time allows. Keep checking back.


10-21-13 - Wow! 4 months since my last Blog update. Sorry for those who actually stop here and read this. I keep saying things have to get easier and less hectic, but that does not seem to happen. Facebook was updated a bit in the past 4 months, but not much there either. Set Up! has commenced. I've got 3 full weekend days on the house so far. I started the last Sunday of September. I lost effectively 7 days in October due to work and Fathers Weekend travel. I went to Pullman WA, for Chris's last Fathers Weekend. He comes home in December for good. Tracy spent almost 3 weeks in Florida on vacation in September. OK, so now the display. I have been talking about the and it is now up in the yard. It was completed on Saturday. It still need to a full up test that I hope to get to this week. It is taller than the Mega Tree, and should be more majestic in the long run. This year, it may not be too fancy, but again, should get better over time. The weather these past 7-8 days has been dry, but foggy. It does not lift till late in the afternoon, so I will not get up on the roof while it is damp. The leaves are only now really starting to fall, and I hope they finish in the next 3 weeks. Time gets split now between work, cleaning the yard, computer work and then what can be done on the display. Sleep is overrated this time of year! So, the house has the icicles, C9 outline, window wraps, porch/porch post wraps, and some of the bushes now have lights. With Thanksgiving falling so late this year, I am taking time off work the week before Thanksgiving, all the way to Thanksgiving, and have to Light Up! on Dec 1st. as We have friends who will be here and leave on the 2nd. Our newest addition is here, we call him Junior in our decorating circle, as he is a 3rd generation snowman from the famous Ziemkowski lineage. Ever since Tracy saw Lowell's Lester, and Mike's video's of Frosty, she wanted to have an animatronic character. I knew Mike was going to market them commercially, and with my schedule of late, custom making one was not going to happen anytime soon. So Mike and I talked about him over the summer, and now Jr. is here. We are looking for his "stage name", as he needs to fit in with the likes of Rudy and Elfis. That effort is being talked about on Facebook right now. This year, he may not get a large part in the show, but we will work on that. So 2 of 3 new additions are announced. The 3rd is going to happen, but I physically do not have it in my possession, yet. This week most likely. THEN I will announce it. Computer work has started. The Mom memorial from last year, the Chase Tree's have been re-purposed. I did not have to tweak them too much from last year in the Heart to where they will be this year. I have to put Jr and the new RGB Tree into all the show sequences. Not trivial, and that is being worked on in the evening. Plus Jr will have one song of his he gets to sing. Planning for Jr's location around Center Stage is now going to be a bit of a challenge as I do need to come up with something to keep most of the weather off him. I hope we do not get much snow this year! I will sign off for now to push this out, and hope to have more frequent updates as we move toward the Season, as it is almost upon us!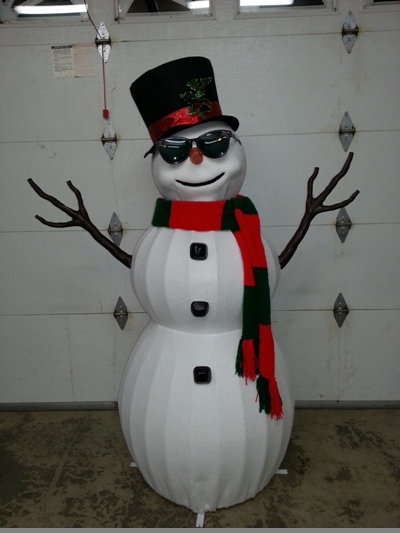 6-23-13 - Well we skipped a Fathers Day update because we were in Lake Tahoe for a long weekend with our friends Tom & Lisa. Lisa's family has a great cabin that we have heard about forever, and this trip was the one we were supposed to take LAST year on my Birthday, only Tracy broke her wrist. We had a great time. Life has been difficult of late. Work is hectic and our family alas, has suffered another loss. My nephew Michael, after just getting married in April suddenly passed away 2 weeks ago. My sister Marlene is devastated as you can imagine. The Memorial was the Saturday we were in Tahoe, so we did not make it. Life is too precious and we always get reminders of how great and fragile it can be. Live every day to it's fullest. With work, and life, I quite frankly have been have been drained and the display has suffered a bit. I am in the throw's of Honey-Do's around the house and yard, of which are important to the display, but not directly. We are circling closer to having house plans for our Lake Chelan cabin. We should be ready to submit for a building permit by the end of the summer I hope. That too will detract a bit from the display! I have made decisions on the RGB Tree, and am going DIY. Everything just about is ordered, controllers, pixels, power supplies, and I need to order some enclosures. Today I actually framed up the new RGB Tree Base and did not get a chance to mix and pour the concrete, as you can see below. It will be a whole different frame than our Mega Tree, but in the long run, should be easier to set up ultimately. We have movement though on the display, sort of, and that in itself is good. The Christmas Expo is coming up after the weekend of July 4th in Gatlinburg. Tracy and I are looking forward to a long weekend to see or Christmas buddies, and my niece Michelle and her girls. Robert is in Kosovo for another overseas stint at the moment. Not too much more to report at the moment. This is always the time of year where the updates are a bit far apart. Check in after the 4th and we should have more for you. Have a great 4th of July and summer to boot!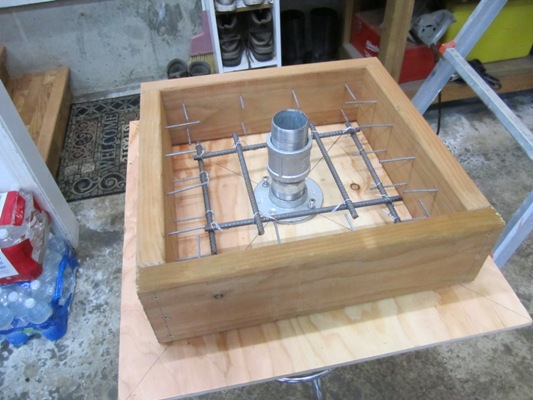 5-12-13 - Happy Mothers Day! It is hard to believe that Mom passed away 10 months ago. So much has gone on in that timeframe. Since July, it seems that I have been running at full tilt, with only a 2 week reprieve right at the beginning of the year. I bought Tracy a new bike helmet for Mom's day, and we spent the afternoon biking to Redhook and the wineries in the valley. We had a great time and will do more of that this summer. So much time since my last Blog post too! 6 weeks. We are in May, and there is still display stuff in the garage and out by they shed that needs repair and stuff that still needs to be put away! There has been no time or in some cases, energy to square things away. Now, Tracy has her Honey-Do list and NONE of that includes Display items. Hmmmm go figure, LOL! Last week was our annual NW Christmas gathering, C.L.A.P. What a huge success. We have some phenomenal talent and enthusiasm. We had almost 60 attendees throughout the day, awesome subject matter, and we also honored our friend and mentor, Bill Foley. It was a tough day without him, but Nancy will continue to allow us to experience Bill through her, and our memories. Due to work, CLAP, and Spring Clean/work around the house, nothing but some cursory research has been done for the display. I did the Powering RGB Elements for CLAP which will help me with my display and some of the new additions. I did get the new roof outline RGB pixels delivered. They too are in the garage along with my seasonal Creative Displays LED light order that was came as well. Next up on the travel docket for Christmas is the large Expo show in Gatlinburg, in July. This year is already going by WAY too fast. Love you Mom.


3-25-13 - Over the weekend I started to clean out the garage to get it organized. I can now SEE the workbench top without all the clutter YEAH! I also re-purposed Tracy's old laptop to put it out in the garage to replace the VERY old laptop that actually used to run the show in the early days. I will donate or sell that laptop at our CLAP meeting in May if anyone wants it. I also had a visit from Kurtis Clifford who is the recipient of our famed Mega Tree. Since I am working toward a new RGB Tree, this now forces the issue as we will have a large blank in the display without the RGB Tree. He was happy to get it. It will provide years of use in his display that he is just getting off the ground himself. A good win-win as they say. I spent some time revamping my EMT Bending How-To. As I had a guy locally ask me about it, and wanted some help bending circles, plus I have to bend a new RGB Tree base for that element. That requires a 10' radius circle that I had not done before. My first attempt I tried to squeeze 3 - 1" EMT sticks into 120 degree arcs, but alas, that came up short of my 10'. So I will now create a base with 4 - 90 degree sections. I started to focus on our annual Christmas gathering meeting planning. Getting sponsors lined up, and working to get an agenda together. More travel at work. Tracy and I head to Pullman for the day on Saturday, so busy, busy. More to come. Thanks for checking in.


3-20-13 - I just stepped outside to take something to the mail box tonight, and had to come back in to look at the calendar. Today, we have had wind, hail, rain, sideways rain, sunshine and now tonight SNOW! Yup it must be the first day of Spring in the Northwest! The past month has seen a LOT of travel, mostly for work, but one long weekend to Georgia, Savannah to be specific to see my oldest Nephew Michael marry his girlfriend Gaby and step son Diego. Savannah is a great place that Tracy and I will have to go back to [again] visit my sister and bro-in-law, Marlene & Rich and get some golf in! A LOT of golf in that next of the woods. In between airplane flights, I have had to focus on taxes, taxes and some taxes. I had to get my mom's last tax return done, start organizing for the Family Trust, and at some point very soon, I have to get my own done and figured out. Always my favorite time of year, NOT! There is still display stuff in the garage that needs to be put away, and stuff to be fixed, before it can be put away too. Not too much to report on the display front except some research and communication on the RGB Tree. I have decided to add some presents around that tree that will be animated elf singers in presents. A la Mike Ziemkowski of Lights on Display. I have been talking to Mike about his elf/presents to make a version of my own, for 2013. Mine this year will not have mouth movement, rather just the heads popping out of the boxes for now. Should be a cute addition. We finalized our plans for Planet Christmas Expo in Gatlinburg, TN for the summer national meeting, and at some point soon, I need to start final planning on our Northwest Christmas meeting, we call C.L.A.P. There is not too much more to update on the display for now, except we need to start focusing on the yard. There is an arbor to build, and other home projects to mix in with the Display plans. I will post more as updates occur. Enjoy Spring!


2-20-13 - I just posted video number 3. We are on a ROLL! I have one more for sure to edit and post, then we are done for the year with video. Next year I should be able to post better quality overall now that I am comfortable with the whole set up. I still will have the multiple camera angles to contend with, and I plan on doing a walk though during the daytime as a "behind the scenes" tour. I have seen these by others and it provide a unique perspective of how these come together. Ah, but alas I am getting ahead of myself. I managed 3 decent days on the Tear Down over the long weekend. Thanks to Conner Gracia who pitched in a hand, all the lights are down, dryed, stored and put away. There is still a few elements that need dis-assembly in the garage, and a good majority of the extension cords are still on the lawn to be picked up, sorted, dried, and put away. Part of Tear Down is always attempting to organize things, so in the garage, there is now a new set of shelves that allows more storage of "stuff", Christmas and otherwise. I got it from Costco and it literally divides the garage in half and the stuff that WAS there creating that barrier is now on the shelf, which actually now give us more room in the garage. This coming weekend all the cords will be out of the yard, THEN, I have to start the usual late winter yard clean up. Get the plant beds cleaned out from the winter crap dump, (cedar droppings, cones, leaves, twigs, etc....), weeds and probably the first mow of the season. There is a lot of fix it projects over the off season, some Christmas Display related, a lot are house and yard projects. On the display, some more research has been done, and a few conversations with other light crazies on the RGB Tree. I ordered new RGB Pixels to replace the LED C9's I have complained about so much, so the roof outline upgrade is committed for sure!. That will require an upgrade to an existing pixel, controller that I had previously (E681 mod to E682), probably assemble the spare E681 I have, and then figure out my power requirements and enclosures. This should be a nice upgrade for sure. Gotta run for now, thanks for stopping in and GO SEE THOSE VIDEOS!


2-13-13 - Our Family Reunion is now behind us. We spent a week in Las Vegas and Boulder City, NV. Las Vegas is what it is, we saw the Cirque De Soleil show Ka, at the MGM. Amazing. I don't mind dropping a few coins on the Blackjack or Craps tables and in this case, I dropped MANY coins, but had fun. The main activity, the Family Reunion/Celebration is almost not describable in words, pictures or videos. They can capture the scene, but not the ambiance. Through agreement with my siblings, we decided to have a once in a lifetime event for our first ever family reunion. We had the opportunity to rent Pirates Cove in Boulder City, NV. Amazing, stunning, remarkable, there are not enough accolades to describe this personal resort. A great time was had by our entire family, and those who attended our Celebration. We certainly created a lifetime of incredible memories for our family. Now, for me, it is back to reality and life around here in WA. I have a plate load of things to manage being the Executor for the families Trust, but I will not try to bore you with that stuff, except that it does cut into the time I have around the house and display. On the display front, video is now published and posted onto Vimeo. In 8 years of doing an animated Christmas display, this is a first. I have taken heat from peers, relatives, friends and I did not succumb. The Memorial vignette for my Mom, and wanting to sharing that with my family, ultimately made me dedicate the time to get this done. 2 are posted now, and 2 more will follow soon. I have to figure out how to embed the links to show the Vimeo screen on the Video Page. At least I have links for now. Beyond that, this weekend, being Presidents Day, it is a long 3 day weekend. I will focus mainly on getting the rest of the display down and put away. If I can secure some help, I might be able to get it just about completely down in the 3 days and be done with it. Things to be worked on outside Tear Down are the local C.L.A.P. meeting in May, and the new addition for 2013, the RGB Tree. Thanks for checking in.


1-31-13 - The yard is looking bare except for the Mega Tree, and Spiral Tree. Now there is still miles of extension cords all over the place, but when you go by, you don't see them. The garage is full of stuff, the porch still full of blow molds, and I need to put a lot of stuff away before we head off to the Family Reunion next Tuesday. There is still a ton of stuff on the roof, and the weather has not been conducive to getting up there to remove those items. I hope to get the roof squared away on Saturday, then have a huge putting away party Sunday morning before Super Bowl! That would leave lights on bushes, tree trunks, house and rock rivers, the Mega and Spiral Tree to get lights down and dried. Anyway you look at it, it is still quite a few more days effort, and will be completed AFTER the Family Reunion. During the week in the evenings, I have been focused on getting a LED Light order in, looking at data to make decisions on the new RGN Tree, and working on video of the display. The catalyst is that I want to complete the video of the Memorial Set we had for Mom in our display this year, so I can take it to the Reunion. Part of our Reunion will be a Memorial for our Mom & Dad. I am making a slide show, and a formal DVD of it and the videos for all our family and friends that are attending. So the good news is that video is DONE, at least the Memorial Set, and the family will see it first. Then I can re-render it for Vimeo or YouTube. I have 3 other songs to edit, and now that I am more comfortable within the video editing software, I should be able to get it out faster. However, having 8 camera angles really complicates the editing. I should hopefully get better in the future. So all told, there should be 5 songs in video for this year. Again, that won't get fully posted till sometime in February.


1-20-13 - Snow, COLD, and Tennis Elbow? We got about 2-3 inches of snow over a week ago, and then the temps plunged and it has not gone away! While it is slowly receding, there is still quite a bit in he yard and on the critical access points to the roof. We have had freezing fog almost every day, and temps getting barely above freezing during the day! Yesterday was the first full day of Tear Down over the past few weekends. Today will be another full day. The garage is full of stuff drying that needs to be put away or in a different spot to wait for me to fix it. That way I can go get more stuff to clean and let it dry tonight as well. Oh I forgot. Tennis Elbow. Since mid November or so, my right elbow has been hurting, a lot. I have a pretty high pain threshold, so I just grunted it out during the remainder of Set Up, then the Season. It sort of got a bit better while I was off work for the Christmas Holiday, then when I sent back to work, it picked up. I thought it may be carpletunnel or something using my mouse, or the ergonomomics of my home office set up. Nope, the doc said Tennis Elbow. It has been a LONG time since I played tennis of any kind on a regular basis. Ibprophen and an elbow band is the current approach for it. I am working on video! I will be getting the "dedication set" I had for my Mom done so that I can take it to Las Vegas and our family reunion/Memorial for our Mom & Dad on Feb 9th. I have been tinkering a lot with the software to figure things out, and have to focus getting it done. I have been doing that at night when I had a spare evening. OK so I am off to get more work done in the garage and yard. Brrrr!


1-8-13 - Last night I started to break down "The Tree in the Window". I got 3/4 done and needed some help by Tracy and there it sits for now. Tonight I focused on getting the pictures finished and posted to Facebook and now the website. I still used the High Dynamic Range (HDR)technique. I like the way it makes the pictures pop. Some say they look surreal, and that is true. No matter what, getting pictures of Christmas lights at night is tough, so why not dress them up some, at least IMHO. I also spent some time getting ready for the video editing. I am still not sure how that will all turn out, I hope it goes well. Tomorrow I will finish the Inside Tree, get it put away and maybe some of the blow molds that are on the porch. That will at least get the porch almost back to normal. Thursday or possibly Friday I have to head to Portland on a biz trip. So we will see what gets done during the rest of the week. Saturday, Tracy and I will head over the Lake Chelan for a site meeting with our Architect, getting ready to finalize the plans for our cabin. That will be exciting to start that process! Tracy is already starting to brim with ideas. Planning and discussion is taking place on the Family Reunion next month. I submitted our Donations to SOWA, put in for Cadence my employer to match some funds. Actually it has been a pretty productive few days all around. Keep checking back for progress and updates.


1-5-13 - The display is now technically shutdown. I spent the last 3 nights getting video. This is never easy, as you all know there is a ton of viewing spots for the display. It is so tough to capture the feel of it in video, because it is expansive. I did the best I could, taped my Mom's 3 songs, then 3 others for fun. I took the videos with my DSLR that is supposed to be WAY better than the older HD Camcorder (that I will be looking to sell). Getting the settings right stumps me every time. Some have such elegant videos. I have a very wide, and deep display. Trying to get it all in focus and have the camera capture it naturally and clearly is difficult. So I will use this as a good learning experience. We will see what the editing yields. The last song played before I shut down the songs and went to the photo loop, was Mom's song Angels Among Us. Fitting to close the display down with that song. So I went out, stood next to the Mom Angel and gave it a hug and kiss. When the song finished and faded, I had a hard time stepping out of the heart. I so appreciate all the accolades everyone gave regarding that vignette. It was special, and will have a special place in my heart too. I pulled myself away, then took one last set of pictures, and then pulled the main power plug and disconnected all the hardware from the Santa Power Panel. Tear Down has commenced. I took the Virtual Santa screen off the frame in my office to get some light in this morning, and the frame is going outside as soon as I complete this entry. Pete Peters is coming over in a bit to help me fix a new light that Tracy bought for our entry way. One of the sockets was not working and in my attempt to get at it to fix it, well, I really fixed it good. Pete, who is a Master Electrician is coming to my rescue and will be Tracy's hero to boot!. I got wind that my early season order for LEDs has to be in by January 24th!!?? I had to give Paul Sessel of CDI an ear full on that one. Normally it is mid to late February. Now I got a LOT to process in a short timeframe. So, gotta go, get things moving. Thanks again for your love and support for the 2012 season. I am already working on 2013!


1-2-13 - Happy New Year! Our most challenging year to date, is now behind us. We are looking forward to 2013 and a hopefully more sedate year. I officially closed the Display last night. I did not get a lot of time to watch the full program, as I was trying to get some pictures. As always, there is seems to be one or 2 last cars that drive up just minutes after the show shuts down and I get to break the bad news that they missed out. To that effect, I told them that there would be some blinky flashy tonight as I try to get video, LOL! It will not be the full show, rather a 3-4 song loop. I really do need to document the tribute we did for my mom, which is the catalyst for wanting to attempt that effort this year. Woodinville Wonderland Inside is in the process of getting put away, as Tracy started that late yesterday afternoon. The inside always looks so bare for the first week after all is put away. Outside of some difficult weather, and one difficult neighbor who some have labeled "The Honker", we had a grand season. With Cadence, my employer matching funds, we will be able to submit a grand total of $6485 to Special Olympics Washington, and the Northshore Wranglers. This exceeds what we did in 2012! I can't thank all our visitors enough for your support and charity throughout the Season. The Season takes its toll on the display items, and there is quite a lot of light strings to fix as I go through the Tear Down process. All that fun will start this Saturday for sure. I made notes of things I would like to change for next year, and one overwhelming thing that worked well this year, was the Peanuts Gang up on the roof. With the custom stands made to get them to stay up there, this is a good thing, as they will get marked and put away to be used next year. Then the big emphasis for 2013 is going to be the RGB Mega Tree that fell out of 2012. I am already looking at information on that to see which hardware direction I am going to take, and then start to move on it very soon. I was also approached about our local Christmas Crazy gathering, we now call C.L.A.P. (Christmas Light Addiction Program), and we have out date set for May 4th. Planning will need to start around that effort later in Feb, which is also when I have to have some idea of an LED light order to my vendor Creative Displays Inc. Never a dull moment! Next up for me personally is our Family Reunion in Las Vegas on Feb 9th. So work has to commence on that event, along with the Tear Down process. Saturday the Jan 12th, looks like a day trip to Lake Chelan to meet at our property to continue the plans for our cabin to start building this year. That will be a fun challenge to manage that process, along with all the rest of everything that goes on in our lives! Thank you for taking the time to read this Blog, and giving me feedback that you have read it. I appreciate all of you who extend yourselves.